North Korea at UN: Trump threats make attack on US mainland "inevitable"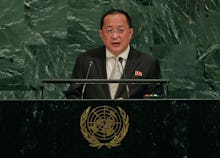 North Korean foreign minister Ri Yong Ho on Saturday fired back at President Donald Trump's aggressive address to the United Nations General Assembly this week, vowing that it is now "inevitable" that the country will attack the United States.
Speaking at the U.N., the North Korean foreign minister called Trump "evil" and said that the Kim regime would "make sure that he bears consequences far beyond his words."
It was the latest chapter in an ongoing game of nuclear chicken between the U.S. and North Korea, which continued earlier this week when Trump called dictator Kim Jong Un "Rocket Man" and told the U.N. that he would "totally destroy" the country if it continued to threaten the U.S. or its allies.
Trump has long talked tough on North Korea, tweeting Friday that Kim was a "madman" who will be "tested like never before."
But North Korea has kept calling his bluff, continuing its nuclear program despite Trump's warnings not to do so.
At the U.N. on Saturday, the foreign minister touted the success of that program and said that it was necessary for the country to have nuclear weapons because of the U.S.
The heated remarks came the same day U.S. fighter jets entered international airspace near North Korea in what chief Pentagon spokesperson Dana White called a "demonstration of U.S. resolve and a clear message that the president has many military options to defeat any threat."
"North Korea's weapons program is a grave threat to the Asia-Pacific region and the entire international community," White said in a statement. "We are prepared to use the full range of military capabilities to defend the U.S. homeland and our allies."