Sen. Collins: "Very difficult for me to imagine a scenario where I would vote yes" on Graham-Cassidy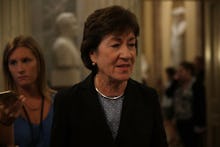 Republicans' latest effort to dismantle the Affordable Care Act may be on the verge of collapse, as a key undecided Republican senator signaled Sunday she's strongly leaning against the proposed legislation.
In an appearance on CNN's State of the Union, Sen. Susan Collins of Maine said it was "very difficult ... to imagine a scenario where I would vote yes" on the proposed Graham-Cassidy bill.
"I have a number of serious reservations about it," Collins said about the proposed legislation, citing threats to Medicaid, the "impacts on cost and coverage" and ending protections for pre-existing coverage.
Collins, who, along with Lisa Murkowski (R-Ala.), has been one of the few Republicans to consistently oppose past legislation that "repeals and replaces" the ACA, has been one of the key undecided votes on the Graham-Cassidy plan, along with Murkowski. With Sens. Rand Paul and John McCain already stating their opposition to the legislation, just one more vote is needed to prevent the bill from passing with a simple majority — meaning Collins' objections to the bill could kill it completely.
Though the Maine senator said she had spoken with a number of politicians about the legislation, including a conversation with Vice President Mike Pence, Collins emphasized Sunday she would reserve her final judgment on the bill until after the Congressional Budget Office releases its initial analysis Monday morning.
The CBO's analysis is expected to be incomplete, as the agency has said that projections on the impact to health care coverage and premiums could still be several weeks away, though Collins said Sunday she was still reserving her judgment in case the agency's early analysis revealed a "surprise" result.
"I'm gonna know tomorrow morning whether the CBO reinforces the concerns and reservations that I already have ... or whether CBO is going to say that they can't come up with the kind of in-depth analysis the agency usually does, or maybe there'll be a surprise in there," Collins said Sunday. "I don't anticipate that, but I want to wait just a few more hours to wait to see that important study."