In Lady Gaga's new Netflix doc, the Fame Monster matures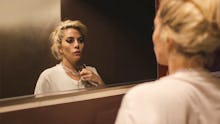 "We've seen me glamorous for almost 10 years. It's boring."
Lady Gaga utters these words just shy of the halfway mark in Gaga: Five Foot Two, a documentary directed by Chris Moukarbel that premiered on Netflix Friday. This statement by Stefani Germanotta — known to the world as Lady Gaga — is the crux of not just this film but every move Gaga has made since she stumbled upon her own ambition on 2013's Artpop. An admirable mess of a record, Artpop halted Gaga's momentum as the heir to such shape-shifters as Madonna and David Bowie, a situation that pushed her in a direction her two idols never would've imagined at a similarly early stage of their own careers: Facing her 30th birthday, Gaga decided to make her own maturation her next phase.
This being the 2010s, public oversharing is a bond that unites us all, but growing up in public so nakedly is something of an unusual situation for a celebrity. Sure, there have been stars who have lived nearly their entire lives in front of a camera — Michael Jackson likely didn't remember a time when he wasn't famous — but throughout the 20th century, access to celebrities was carefully regulated with spikes in coverage coinciding with the release of a new project. As the second decade of the 21st century starts to fade into the sunset, such notions of controlling a persona seem quaint, as there's a constant hum of information emanating from anybody you'd care to mention.
Certainly, Lady Gaga is a happy, willing participant in this culture, boasting more than 70 million followers on Twitter and 25.5 million adherents to her Instagram account, but the very existence of a behind-the-scenes doc like Gaga: Five Foot Two suggests she understands the limits of curated celebrity in the social media age.
That shouldn't be a surprise coming from a pop artist so self-aware about stardom she titled her 2008 debut The Fame, but that record was released in an age where the monoculture still appeared to define pop culture. Nearly a decade later, we're awash in vociferous stans championing superstars who, with the exception of Rihanna and Taylor Swift, no longer cluster at the top of the charts. All the same, these figures still dominate online discourse, creating the illusion that their fame is as intense in the real world as it is online.
Gaga: Five Foot Two punctures this illusion in a scene arriving toward the end of the film. Germanotta descends on her local Walmart to purchase a stack of the stripped-down, then just-released Joanne this past fall, but the store's rent-a-cop doesn't recognize her even though she's decked out in the same pink cowboy hat she sports on the album cover. Once he recognizes his error, he whips out his phone and asks for a selfie to send to his girlfriend — proof positive that for the average punter, the celebrity matters more than the art.
For Lady Gaga, art and celebrity have not only been equally important, they've been intertwined; her music was designed to be popular and her popularity allowed her to take risks with her music. Artpop threw a wrench into these plans by not generating more than one hit single, an unfortunate career turn that coincided with the steady creep of chronic pain and reckoning with personal trauma.
Gaga began to air these afflictions in public in late 2014, right around the time she flaunted her vocal skills via a duet album with Tony Bennett called Cheek to Cheek, but by the time it came for her to write and record Joanne — her first collection of original material since Artpop — she decided it was time to explicitly reckon with the scars of this pain within her music.
Naming the album after an aunt who died of lupus years before Germanotta's birth, Gaga adopted Joanne as her spiritual guide as she addressed lingering familial issues, questions of identity and heartbreak — personal topics she deliberately avoided on her previous records. It's a thematic evolution that can sometimes be obscured by how Gaga rightly threads Joanne with spangly disco; without a dance pulse, the record would be dull, but it does distract from her emotional maturation.
Gaga: Five Foot Two pushes that maturation at the forefront, with Germanotta repeatedly referencing how she's turned 30 during the creation of Joanne. Gaga makes it plain in this doc that she's a woman, not a girl, as it's filled with moments where she mentions there are certain things she'll no longer put up with now that she's entered her fourth decade. One of them is nonsense from a lover — her split from fiancé Taylor Kinney is alluded to, not explored — and another is condescension from male collaborators.
As she praises Mark Ronson, the producer of Joanne, her compliments can't help but be read as a veiled signal of solidarity with Kesha, whose career was hamstrung by a producer allegedly exploiting her in every sense of the word. Whenever we're in the studio during Gaga: Five Foot Two, the focus is on Gaga — she's behind the piano, singing into the microphone, jamming on an acoustic — and not on Ronson, who is a benevolent presence, a midwife helping to usher this music into existence.
Like everything in this star-sanctioned documentary, Gaga endorsed this portrait of the creative process, just as how she was happy to be pictured cooking at home with her family or pitching a fit on the set of American Horror Story or bitching about Madonna's lack of respect or hanging out topless by the pool. Every star is aware whenever the camera is on and the audience's awareness of this self-consciousness is baked into a publicity project as this, which purports to be candid even when it's by definition controlled.
And, yet, Gaga: Five Foot Two winds up drawing a revealing portrait of a star who has been around for nearly a decade and is likely to endure for several more. Forget her featured role at this past February's Super Bowl, a media event that bookends the film. What matters in the movie is how Gaga winds up drawing a clear line between her persona and person through the very fact of how most of Five Foot Two is devoted to watching Germanotta create art she can perform as Lady Gaga.
The distance between Stefani Germanotta and Gaga dwindles over the course of the documentary. When the film depicts Germanotta living with fibromyalgia, it's strikingly stark, but that also reflects the reality for anybody living with an autoimmune disease: It's neither a struggle nor battle but a fact of life, an illness that can spike at the most unwelcome moment. Existing with this illness is difficult for people of any stripe, but for somebody who earns a paycheck as a performer, it's perilous because the public is preconditioned to perceive any complaint about a disease with no physical manifestation as invented.
During Five Foot Two, there's no denying that she's in pain — not when she's curled up sobbing on a couch or seen sitting in a doctor's office, not quite able to articulate just what is wrong with her body. Her openness with the reality of disease provides a bridge to a seemingly fleeting bit of promotion, where she meets a fan who won an iHeartMedia radio giveaway. Both Gaga and the fan are smart enough to realize that this is a commercial transaction, but that doesn't mean it contains no meaning. The fan found sustenance in Gaga's art and Germanotta is clearly moved by this fact, with the two struggling to suppress their tears. Maybe it's for the camera, but the rest of Gaga: Five Foot Two suggests not, because it makes plain that Lady Gaga is the creation of the tormented, sensitive Stefani Germanotta, and both she and her fans find the art transportive.
Such shared beliefs bond an artist with their audience and they also transcend the vagaries of fame, a condition predicated on perceived importance. There may come a time when we don't immediately click on the mention of Lady Gaga, but even if she'll no longer be at the forefront of popular consciousness, she'll retain these faithful followers. They'll stay by her side because her art is imperfect and genuine, reflecting a woman who once imagined shaping the world in her image but now is content making music that reflects her soul.