NFL players, coach, team owner take a knee during national anthem at Ravens vs. Jaguars game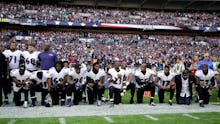 Days after President Donald Trump called on NFL team owners to punish players who kneel during the national anthem, Jacksonville Jaguars owner Shahid Khan joined players for both his team and the Baltimore Ravens in a show of solidarity against the president's harsh comments.
During an NFL game at London's Wembley Stadium Sunday, football players from the Baltimore Ravens and Jacksonville Jaguars linked arms and kneeled en masse as the U.S. national anthem was played. The act of protest marked a sharp change from past NFL games, CNN's Jake Tapper noted, in which only a few players made the decision to take a knee in protest of social injustice and racial inequality.
The players were joined by Ravens coach John Harbaugh and Jaguars owner Khan, the Washington Post reported. Khan's participation marks the first time a league owner is believed to have participated in an anthem protest, and the team owner previously donated $1 million to Trump's inauguration.
Sunday's display of solidarity marked the latest effort by those in the NFL to openly defy Trump's condemnation of the acts of protest, after the president called those who choose to take a knee "sons of bitches" in a speech Friday.
NFL commissioner Roger Goodell called Trump's comments "divisive" in a statement Saturday, adding that the president displayed "an unfortunate lack of respect for the NFL" and a "failure to understand the overwhelming force for good our clubs and players represent in our communities." Several NFL owners — including New England Patriots owner Robert Kraft, who is reportedly good friends with Trump — have also come out against the president's statement, as well as prominent players.
Green Bay Packers quarterback Aaron Rodgers supported the anthem movement with an Instagram post Sunday, which New England Patriot quarterback Tom Brady seemed to express solidarity with by commenting on with a strong arm emoji.
The Trump administration, however, has stood by the president's divisive comments. Trump took to Twitter Sunday morning to call for a boycott of the NFL "until players stop disrespecting our flag and country," while Treasury Sec. Steven Mnuchin supported the president's harsh stance in a Sunday appearance on CNN's State of the Union.
"This is about respect for our military. This is about respect for our first responders," Mnuchin said, suggesting that Trump wants NFL owners to meet and vote on a rule requiring players to stand during the national anthem, even as many of them have supported their players' right to kneel.
"This is not about Republicans or Democrats. Players have the right for free speech off the field. On the field, this is about respect for lots of people," Mnuchin continued.
Correction: Sept. 24, 2017