Sen. Ted Cruz on Graham-Cassidy: "Right now, they don't have my vote."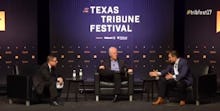 In an unexpected turn of events, Republican Sen. Ted Cruz of Texas announced Sunday that he does not support the Graham-Cassidy health care bill in its current state.
"Right now, they don't have my vote, and I don't think they have [Republican Sen. Mike Lee of Utah's] vote either." Cruz said in an appearance at the 2017 Texas Tribune Festival.
The Texas senator told the panel that, even though he believed repealing the Affordable Care Act to be of the utmost importance, he wanted a bill that focused more on "consumer freedom," which he argued was necessary to lower the cost of insurance premiums.
"Now, I want to be a yes, I want to get there because I believe Obamacare is a disaster, but the price to getting there, I believe, is focusing on consumer freedom," Cruz said.
The glut of coverage on Senate Republicans' fifth attempt to repeal the Affordable Care Act has focused on Sens. Susan Collins of Maine, Lisa Murkowski of Alaska and John McCain of Arizona, the three Republican senators who voted with the Democrats to kill the so-called "skinny repeal" in July. If just two of those senators join Sen. Rand Paul of Kentucky in voting against the bill, Graham-Cassidy would not have the 51 votes necessary to pass in the GOP-controlled Senate.
On Friday, McCain announced that he could not "in good conscience" support the health care bill. On Sunday, Collins appeared on CNN to say that she would likely not support it either. If Cruz does not change his stance by the Sep. 30 deadline (and if he's right about Lee's stance on the bill), Graham-Cassidy's shot at passing in the Senate is effectively dead.
Though Graham-Cassidy had been gaining momentum in recent weeks, its chances of gaining enough support to pass the Senate were always a long shot. An analysis from the Center on Budget and Policy Priorities, a liberal-leaning think tank, found that the bill will end up punishing states like Alaska, Arizona and Maine as it takes federal funding from those states and redistributes them amongst all states in the form of block grants.
That loss of federal funding likely provided yet another obstacle preventing McCain, Collins and Murkowski from affirming their crucial support for this bill.