Meet the 19-year-old European sleuth responsible for helping ID what Melania Trump is wearing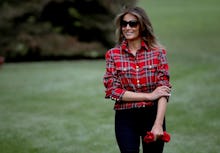 There is an entire pocket of the internet, Mic's Strut channel included, devoted to figuring out what Melania Trump is wearing. Starting from the very first second that Trump makes a public appearance, the internet — and Twitter, more specifically — starts to churn. All at once, different journalists and social media presences scour the internet and their own personal fashion knowledge to unlock three important questions: What is she wearing? Who is she wearing? What does it mean?
It's actually a trickier game than you may realize. There's no obvious search term for, say, when Trump steps out in Poland in a blue dress with what looks like pop art on the skirt.
Would you Google something like "sleeveless blue dress designer"? Good luck with that. "Sleeveless blue dress with pop art at bottom" probably won't yield you the results you want either. (It turned out that the dress is from the Spanish label Delpozo.)
So you can see why this kind of crowdsourcing that goes on on Twitter is so valuable. But amidst this swarm of journalists and Trump fanatics trying to figure out each look on Twitter, one Twitter bests all the rest: WhiteHouse_Fash.
The White House Fashion account regularly reports what Trump is wearing, lighting up with pictures, predictions and proof, within seconds of a public appearance. Is that coat Dolce & Gabbana? Is that dress Monique Lhuillier or Hervé Léger? In minutes, it usually has an answer.
It's an account Mic relies on heavily for its weekly Trump fashion column because of its speed and accuracy. So it may surprise you that the woman behind the account isn't even American. Actually, she doesn't even live in the United States , but in Europe, where she's a college student with a dream of becoming a French teacher in an English-speaking country.
According to Heaven LeeMiller, the 19-year-old responsible for the account, tracking the Trump family's fashion (she keeps an eye on Ivanka too) has been an excellent way for her to learn English.
"I'm a big fan of investigations myself," LeeMiller said in an interview. "It was just fun looking for things, because when she wears something I love, I'm like, 'Oh, it's so beautiful.' And then it's like, 'Oh, well I don't have anything to do, so why don't I just look for this dress?' The only downside is the time it takes, especially when I'm doing school. People don't always credit you for your finds, and you post something on Twitter and people act like they found it. It's frustrating."
For the past few years, finding the clothes that famous people are wearing has been LeeMiller's passion. She's been behind Twitter accounts and blogs that track what members of royal families in Europe wear too. Though, she says, the United States' current first family is much easier.
"With royals there's this common idea that they have to wear more brands from their country than international brands," LeeMiller said. "The people living in those countries pay a lot of attention to the prices, so they wear more local brands. Melania and Ivanka, they wear brands they like and designers they like. It's totally their choice. Melania is not wearing a lot of American brands. She wore Delpozo at the U.N., and I was sure she was going to wear American brands, but nope."
Members of royal families tend to wear a lot of custom pieces too, and LeeMiller has had to email brands and representatives herself to figure it all out. For the Trumps though, she relies on her own fashion knowledge and sites like Net-a-Porter and Saks Fifth Avenue, since she knows they love high-end, European designers.
"With Melania, I check websites like Net-a-Porter, Saks Fifth Avenue and Moda Operandi, if I think it's from the runway," LeeMiller said. "Then if I don't find it, I start to worry that it's something custom. But they have their favorite designers. She wears Monique Lhuillier a lot, and Delpozo. I spend a lot of time looking at Net-a-Porter, just when I'm bored."
LeeMiller has built up such a credible reputation within the Melania Trump fashion circles that Edward Barsamian, the Vogue reporter tasked with writing about Trump's clothes, often works with LeeMiller closely. "Edward helps me a lot," LeeMiller said. "And I sometimes email Edward."
As for why the culture of obsessing over what Trump is wearing even exists, LeeMiller said she thinks it's a result of Trump being so incredibly silent as a first lady thus far. "With Melania, she's really interested in fashion," she said. "They have an expectation of her because she looks glamorous and we want to see what she wants to wear. For the moment, this is what you can talk about when you see Melania. I'm sure that will change when she chooses an organization that she wants to talk about, but her clothes for the time being kind of speak for themselves."
Given that she is posting about the first lady, LeeMiller is often inundated with political commenters, which she's uncomfortable with herself. She's not American, nor is she even a Trump supporter. Positive and negative reactions both make her uneasy.
"People say, 'Oh, you're trying to make Melania look like an angel,'" LeeMiller said. "And it's like, no, I'm not even American. I'm not a Trump supporter. Sometimes my notifications are a mess because people are always either praising her or critical of her."
The comments themselves make LeeMiller a bit unsure if she can keep this account around for the rest of Trump's stint as first lady. LeeMiller took the reins of White House Fashion just this July, after the account's initial founder decided to close White House Fashion, because it was just too much work for her. After seeing a public outcry online, LeeMiller revived it, but does admit that it's quite a lot of work. By LeeMiller's estimate, every time Trump has a public appearance, it takes two hours to track down all the designers of each part of her outfit.
"I will stop if it gets too political," LeeMiller said. "If they're using my posts to prove their point that they're anti-Trump or a Trump supporter, I will stop. If it gets to be too much or wastes too much of my time, I will, but so far I've dealt with it correctly. I just care about fashion."
Naturally, after studying Trump's clothing so closely, LeeMiller has her own hopes for how Trump's style will evolve.
"I'd like her to wear more American designers because I think there are some really great up-and-coming designers who would benefit from the first lady wearing their designs," LeeMiller said. "I don't know, I really liked what Michelle Obama did with Jason Wu, or designers that aren't well-known. It gives them a real boost. But you can see she genuinely loves fashion. It's not always flattering, but you can tell she feels good."
As with everything in the Trump administration though, all we can do is wait and see.