Milo Yiannopoulos falsely suggests a 'Mic' reporter is a known neo-Nazi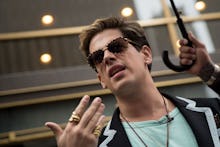 Ahead of his free speech rally at the University of California's Berkeley campus, alt-right provocateur Milo Yiannopoulos falsely suggested to his millions of followers that the Southern Poverty Law Center, an organization that tracks the rise of white nationalism in America, had identified Mic correspondent Jack Smith IV as a neo-Nazi.
"White supremacists and neo-Nazis hate me, and I hate them," Yiannopoulos said in a blurb accompanying a photo of Smith, which was photoshopped to look like it had been uploaded to the SPLC's neo-Nazi tracker. "I utterly disavow the odious beliefs of these wacko fucks and urge them not to attend today."
The image of Smith was taken from a Mic video, which explains how the alt-right spreads ideologies by using recognizable internet symbols.
Smith, who tweeted about the posts, is not listed as a neo-Nazi on the SPLC's website. The post falsely claiming such has since been taken down from both Yiannopoulos' Facebook and Instagram pages. One of the people who shared the post said she did so in order to get the word out about a neo-Nazi near the Berkeley campus — not realizing the content of the post was untrue.
"I am sensitive to neo-Nazis being a Jew myself," she said when she found out the information in the post was fake. "I was tricked, but it hit a sore spot considering I grew up hearing stories about the camps from family members that survived."
When Mic asked Yiannopoulos why he posted the photoshopped image falsely suggesting Smith is a neo-Nazi, he responded by referring to a tweet from Smith in which the reporter said Yiannopoulos intended to "out" Berkeley students without legal immigration status at an appearance at Berkeley — a claim that Yiannopoulos called a "wholesale lie."
"Ask him why he did this," Yiannopoulos said, emailing a screenshot of Smith's tweet.
When asked if it was fair to characterize Yiannopoulos' social media posts calling Smith a neo-Nazi as a response to this tweet, he responded: "Jack Smith is as much of a Nazi as I am." 
Though the claim that Yiannopoulos was going to out undocumented students was never proven, it spread widely after Berkeley wrote to its college Republican organization urging its members to consider their fellow students' safety ahead of a February 2017 appearance by Yiannopoulos on its campus.
"We are deeply concerned for all students' safety and ability to pursue their education here at Cal beyond Milo's speech," the letter from the university's Office of Student Affairs said. "Milo's event may be used to target individuals, either in the audience or by using their personal information in a way that causes them to become human targets to serve a political agenda."
George Ciccariello-Maher, then a professor at Berkeley, cited "reliable sources" in a viral tweet warning followers of Yiannopoulos' alleged intentions.
Yiannopoulos was scheduled to kick off Free Speech Week, a four-day event officially recognized by the university, in an appearance at the college campus Sunday evening. Though the university announced Saturday it had canceled the event, the alt-right speaker promised his fans he would still appear at an unofficial event on the college campus.
"We will not be deterred," he said, according to NBC News. "We will proceed no matter what, in whatever format we can, to realize the promise of Free Speech Week and send a message that conservatives will not be bowed by pressure from academics, the media or anyone else."
Prior to the posts disappearing from Yiannopoulos' social media accounts, Mic executive news director Kerry Lauerman said in a statement that the media company reached out to Facebook and Instagram about the "offensive" posts.
"Mic has asked Facebook and Instagram to remove the post, which is a false and offensive slur against our reporter, Jack Smith IV," Lauerman said.