Just 20% support Graham-Cassidy health care bill, poll finds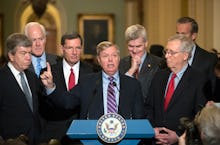 A dismal 20% of Americans support the health care bill Republicans are trying to jam through the Senate before a Sept. 30 deadline, according to a CBS News poll released Monday.
According to the poll, not one political group supports the bill. Less than half of Republicans, or 46%, approve of the bill, while just 18% of independents and 2% of Democrats support the legislation.
The bill's abysmal approval rating comes as Senate Republicans are desperately searching for 50 votes to pass the bill, over objections from almost every segment of the U.S. health care system — doctors, hospitals and insurance companies.
Still, Senate Republicans are hoping they can find the votes to pass the bill before Saturday's looming deadline.
Late Sunday night, Senate Republicans released an amended version that offers more money to states whose GOP Senators are still undecided or already announced they're voting no.
Under the revised plan, Alaska, Arizona and Kentucky would receive more federal funding than the previous version offered. It's an effort to woo Sens. Lisa Murkowski, John McCain and Rand Paul, all of whom have either said they are undecided or plan to vote against the proposal.
Experts add that the new draft also weakens protections for people with pre-existing conditions, despite the fact that co-author Cassidy promised his bill wouldn't do that.
"If there was any question about Graham-Cassidy's removal of federal protections for pre-existing conditions, this new draft is quite clear," Larry Levitt, a health care expert with the Kaiser Family Foundation, tweeted Sunday night.