With potential defeats on health care and a Senate election imminent, Donald Trump fires up his base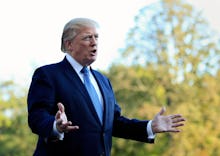 Welcome to Mic's daily read on Donald Trump's America. Want to receive this as a daily email in your inbox? Subscribe here.
Every day, we bring you a different dispatch on Trump's America. Today's focus: The base.
Monday's Dispatch: With health care and Senate defeats imminent, Trump is playing to his base
We talk about them often — the roughly 25% of Americans who say they will be with President Donald Trump no matter what. Time and again, Trump has chosen narrower paths to please his core supporters instead of casting a wider net that could bring political unity.
It looks likely Trump's chosen candidate will lose a U.S. Senate race on Tuesday in Alabama. And the Graham-Cassidy bill — the last chance, this year, for Republicans to repeal and replace the Affordable Care Act — is on life support.
So Trump is doing what he does best: firing up his supporters with a culture war that angers the majority — and distracts from coming defeats.
At a rally on Friday intended as a show of support for Sen. Luther Strange (R-Ala.), Trump said NFL owners should fire "sons of bitches" who kneel during the national anthem at football games. That led to days of news coverage with a focus and intensity similar to that after Trump condemned "both sides" for violence in Charlottesville, Virginia.
Then, on Sunday night, Trump issued an indefinite travel ban on people from seven countries to visiting the United States. Citizens from Chad, Iran, Libya, North Korea, Somalia, Syria and Yemen now face strict limitations on traveling to the U.S. because their countries threaten "the security and welfare of the United States," the administration said.
Majorities of Americans did not approve of Trump's travel restriction orders issued earlier this year. But it kept a core promise to his base. And many see the NFL fight as one that will please Trump supporters while angering those who already loathe him. A chorus of opposition to Trump's comments Friday came from professional athletes over the weekend, backed up by many Democratic lawmakers.
This comes as the Graham-Cassidy health care bill is a vote short of failure, with several Republican senators yet to voice public support for the legislation. And polls showing Strange is headed for defeat against a Steve Bannon-backed conservative in the state's Senate Republican primary on Tuesday.
This is a Trump move that should now feel normal. Please supporters, anger opponents and keep the spotlight away from failure. But with the latest health care push and Alabama Senate race already drawing weeks of attention, it may be tough for Trump to divert attention from those issues.
Today's question: Do you think Trump can continue to fire up his supporters with unilateral actions or tweets? Or will people who support him expect substantive change? Email us your thoughts at trumpsamerica@mic.com.
This week in Trump's America:
The latest on Graham-Cassidy: Sens. Rand Paul (R-Ky.) and John McCain (R-Ariz.) are "no" votes. Sen. Susan Collins (R-Maine) said Sunday it is difficult to see her voting for the current bill, while Sen. Lisa Murkowski (R-Alaska) continues to express doubts. Sen. Ted Cruz (R-Texas) said Sunday he's currently a "no" vote. Several other Republican senators, including Sen. Mike Lee (R-Utah), have also been quiet on their support of the legislation.
The math: The GOP can only afford two defections on the bill. At least five senators are openly against the bill or likely to announce opposition soon.
The latest: Those crafting the bill have advanced a new version that shows small states, like Alaska and Maine, gaining federal health care funding under the legislation. Republican leaders faced the allegation that those moves aim to "buy" the votes of Murkowski and Collins.
Sen. Minority Leader Chuck Schumer (D-N.Y.) blasted that move. "Despite an attempt to appear to add money for a select few states, this bill is just as bad for those states and the rest of the states because it still contains a massive cut to Medicaid," he said in a statement.
The CBO: A partial report on the impacts of Graham-Cassidy is expected on Monday, following a week of analysis released by private groups that slammed the bill's impact.
The pressure: Progressive groups are planning a major rally Monday on Capitol Hill to amp up pressure against the health care reform legislation, with events planned nationwide throughout the week. (Mic will be on the ground during the Capitol Hill protests.) A new poll finds only 20% of Americans support the legislation; 52% disapprove of Graham-Cassidy.
And now on to tax reform: The GOP will release a framework to pass their tax reform bill this week. Trump will speak in Indianapolis on Wednesday about his tax plans. It is expected to focus on tax cuts to businesses and individuals, including wealthy Americans.
The story you're probably not following closely enough: The Washington Post detailed widespread devastation in Puerto Rico after being hit by multiple hurricanes in the past month. Power is expected to be out for months. Phones do not work. Running water is not available in some areas. Reminder: Puerto Ricans are Americans. And this devastation is happening in the United States.
Jared Kushner has used a private email at the White House. Other Trump officials have also used private email to conduct government business.
McCain says the prognosis for his brain cancer is very poor.
Angela Merkel was elected to a fourth term as chancellor of Germany, but there was a surge in voter support for a far-right party.
Today's MicBite:
Mic was on the ground in Berkeley, California as protesters shouted down Milo Yiannopoulos at his free speech rally. In advance of the rally, Yiannopoulos falsely accused a Mic reporter of being a "neo-Nazi." Tap or click below to watch video of the confrontation in Berkeley.