How Outdoor Voices successfully created distinctly anti-"Look at me, I'm fast!" athletic wear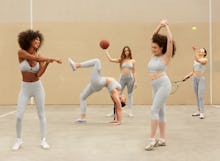 When it comes to activewear (or athleisure, as it is commonly called) there seems to be two denominations. There are the behemoths like Nike, Adidas and Under Armour, who offer apparel as part of a much larger portfolio of lifestyle offerings, and then there are specialty brands such as AEANCE, Ivy Park and Lululemon, who seek to imbibe a sense of elevated design in their products — something more overly fashion forward, as practical in an exercise class as it is at the grocery store.
But then there's Outdoor Voices, a company founded by 29-year-old Tyler Haney in 2014, which distinctly seeks to be neither.
"We're focused more on material than embellishments or designs," Haney said in an interview with Mic. "We want our product to feel wearable and easy, but function throughout various activities and states of sweat — a uniform for activity, something that's wearable everyday and makes it easy for people to get out and start doing things."
An athlete herself, Haney was bored by offerings in the activewear space and the message that often came with it, which Haney described as the "never enough mentality." Having identified the problem, she decided to solve it.
"For us, it's more about encouraging the consistency of daily activity rather than trying to be the fastest or strongest," Haney said. "A phrase we use often is, 'Be the hiking buddy who brings snacks.' It's about being a team player and bringing humor, ease and delight to the table. We want to be the friend who gives you a high five after a jog, just for getting out there."
What began as a single-employee venture in New York City now has a staff of 70 full-time employees — 77% of which are women — and five storefronts in three states.
"When we first started designing OV, taking a clean, fresh approach to activewear felt really true to us as a brand," Outdoor Voices designer Alexa Silva, who studied apparel design at the Rhode Island School of Design before working in women's knits and sweaters at Calvin Klein, said. "We focused on mixing grays, charcoals and navys to create a non-neon uniform that didn't scream, 'Look at me, I'm fast!'
"As these products have become our foundation, it's given us room to bring an upbeat, playful element into our designs," she explained. "We're incorporating more color and prints while still keeping a perspective that feels true to OV."
How to stay true while competing in a busy market comes down to design ethos. "We pull inspiration from art, nature and design, rather than looking to other brands. Our biggest guideline is our mission, and staying focused on delivering a new approach to activewear," Silva said.
For example, the brand's Fall 2017 line pulled its color story from the work of Italian photographer Franco Fontana. "The landscapes appear to be hard-lined abstract paintings that echo a lot of other works we use for inspiration (like Nathalie Du Pasquier)," Silva said. "Our use of color and blocking in the Ochre summer collection pulls from the golden colors of the grains, light blues of the sky and olive greens of the rolling hills he shot."
But it's not just the design ethos that sets Outdoor Voices apart — it's the campaign images, rife with women of different ages, colors and sizes. "We want everything we do to represent the diversity in the OV community," Haney said. "We don't hire models for a lot of our editorial imagery; we shoot our friends. We believe that activity is ageless and shapeless, and [we] want to build a platform and product to support that belief. It's more about celebrating daily movement and the joy in it than the pressure to perform."
So, what's next for the company? "Our priority is driving growth online, supported by fantastic store experiences," Haney said. "We have additional shops opening on the West Coast this year and more to come in 2018, and we're investing heavily in material innovation and product development."