NASCAR officials say they'll fire anthem protesters — but they let fans fly the Confederate flag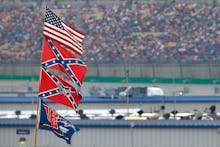 As officials from the National Football League and other major sports organizations condemn President Donald Trump's attack on football players who peacefully protest during the national anthem, another sport is largely sticking by the president's side: NASCAR.
Several NASCAR team owners said Sunday that they would not tolerate drivers who protested during the national anthem, even going so far as to say they would fire them.
"Anybody that don't stand up for the anthem oughta be out of the country. Period. What got 'em where they're at? The United States," former driver and team owner Richard Petty said, according to the Associated Press. Team owner Richard Childress said protesting would "get you a ride on the Greyhound bus."
A few in the NASCAR world have openly supported the protests — such as driver Dale Earnhardt, Jr., who tweeted a quote from former President John F. Kennedy saying "All Americans are granted rights to peaceful protests." NASCAR itself released a statement Monday praising the right "to peacefully express one's opinion."
Nevertheless, Trump praised the organization Monday morning in a tweet, saying the organization's officials and supporters had sided with him "loud and clear."
"So proud of NASCAR and its supporters and fans," Trump tweeted. "They won't put up with disrespecting our country or our flag — they said it loud and clear!"
Many NASCAR fans — who are predominantly white and largely support Trump — however, also show their allegiance to a different flag: the Confederate one.
The Confederate flag and NASCAR have traditionally been closely intertwined, SB Nation noted in 2015, with both being regarded as historically Southern institutions. Past NASCAR events at a race track in Darlington, South Carolina, were even once dubbed "Rebel" races. Those races featured the flag on official advertisements, played Confederate anthem "Dixie" during pre-race ceremonies and even starred a "Johnny Reb" mascot.
"It's a Southern thing, just like NASCAR," South Carolina contractor Terry McCutcheon said about the Confederate flag in 2000.
In more recent years, the racing organization has taken steps to officially distance itself from the divisive symbol. After first flying as the symbol of the Confederate South as it attempted to secede from the U.S. in the Civil War, the Confederate flag is now associated with the Confederacy's anti-black, pro-slavery platform, as well as present-day white supremacists.
Following the 2015 shooting at a historically black church in Charleston, South Carolina, in which a white gunman killed nine black parishioners, NASCAR released a statement in support of the decision to remove the Confederate flag from the South Carolina state house, which stated the organization "will continue our long-standing policy to disallow the use of the Confederate Flag symbol in any official NASCAR capacity."
The organization then doubled down on its comments in July 2015, releasing a second statement from its racetrack owners that called the flag an "offensive symbol" and asked fans to "refrain from displaying" the flag at NASCAR events and facilities in the hope of fostering an "all-inclusive, even more welcoming atmosphere."
NASCAR followed up its request with a few initiatives to remove Confederate flags, such as a program where fans could exchange a Confederate flag for an American one — an act that one guard tasked with offering American flags in exchange told SB Nation would be considered "a form of surrendering" — and asking fans to take down flags inside the racetrack by claiming they would block sight lines, the New York Times noted. But they haven't officially banned the flags.
In August, USA Today noted in the number of Confederate flags at NASCAR events today is lower than a decade ago, but they are still a common sight.
"I'm still flying mine," NASCAR fan Brian Ellis of Chattanooga told USA Today in August about his Confederate flag. "It means something important to me — a part of my heritage because my relatives fought under it. Nothing the president or anybody else does or doesn't do is going to change that."
The fans' defense of their Confederate flag flying, and NASCAR's willingness to let them do it, boils down to freedom of speech and expression — the same freedom that athletes exercise when they take a knee during the national anthem.
NASCAR has long been cognizant of their fans' First Amendment rights when it comes to flying the Confederate flag — particularly as their Southern fanbase makes up over 80% of the organization's revenue, according to Sports Illustrated. In 2005, NASCAR CEO and Chairman Brian France said on 60 Minutes when asked if he'd ban the flag from NASCAR tracks: "I think that you get into freedom of speech and all of the rest of it. All we can do is get behind the most important flag, the American Flag."
The organization then said in their 2015 statement supporting the flag's statehouse removal that they "[recognize] that freedom of expression is an inherent right of all citizens" with respect to fans carrying Confederate flags in an unofficial capacity at NASCAR events. (NASCAR has not yet responded to a request for comment.)
NASCAR fans, too, cling to their First Amendment rights to justify their decision to fly the Confederate flag, despite its offensive connotations and origins as a symbol opposing the U.S.
"This is the United States of America. I have the right to do what I chose," NASCAR fan John Wilson told USA Today. "And if you find it offensive, I am sorry."
Vermont NASCAR fan Lise Gagner, too, said for her, the flag was "really just freedom of expression and freedom of speech."
"We don't fly it because we want to offend them or we don't fly it because our view is different from theirs. It's just really our right to express ourselves in our own way," Gagner told WCVB5.
Though NASCAR did emphasize the First Amendment rights of the protesters in their official statement Monday, NASCAR officials and supporters who have openly sided with the Trump administration's position condemning the protests as disrespectful are making it clear their willingness to put First Amendment rights over an act's potential to offend is selective at best.
"[Athletes] can do free speech on their own time. This is about respect for the military and first responders and the country," Trump's Treasury Secretary Steven Mnuchin said in a Sunday appearance on ABC's This Week about the anthem protests. "They have the right to have the First Amendment off the field."