Bernice King: "People didn't approve of how my father protested injustice either"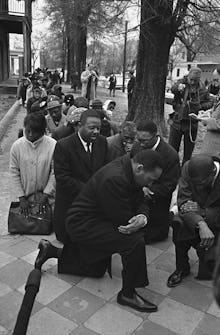 One day after President Donald Trump ignited outrage throughout the nation's sporting communities by calling on NFL officials to fire the "son of a bitch" players who choose to take a knee during the national anthem as a form of protest, Bernice King — the last living daughter of civil rights leaders Martin Luther King Jr. and Coretta Scott King — took to Twitter to invoke her father's legacy.
"People didn't approve of the way my father protested injustice either; said he was causing trouble, called him an 'outside agitator,'" King, who was just 5 years old when her father was assassinated at the height of the civil rights movement in 1968, tweeted.
In a separate tweet featuring side-by-side images of King and other civil rights leaders kneeling and former San Francisco 49ers quarterback Colin Kaepernick taking a knee, the younger King wrote that, though the images had been taken decades apart, "racism STILL kills people and corrupts systems."
Trump made the initial inflammatory remarks during a rally in Alabama Friday when he alluded to the recent wave of NFL players kneeling during the national anthem to protest systemic racism and police brutality.
"I'd love to see one of these NFL owners, when somebody disrespects our flag, to say, 'Get that son of a bitch off the field right now. He's fired,'" Trump told the crowd.
The fallout from the comments was swift. Roger Goodell, the commissioner of the NFL, said the president's words were "divisive" and showed an "unfortunate lack of respect for the NFL." Shadid Khan — the owner of the Jacksonville Jaguars and the only Muslim franchise owner in the NFL — took to the field alongside his team as a show of solidarity.
Players themselves also took Trump's remarks as a direct challenge. On Sunday, Green Bay Packers quarterback Aaron Rodgers supported the anthem protests by way of an Instagram post.
And in an emotional postgame interview on Sunday, Miami Dolphins safety Michael Thomas teared up as he told reporters that the protests were bigger than sports.
"I got a daughter. She's going to have to live in this world," Thomas said. "I'm going to do whatever I got to do to make sure she can look at her dad and be like, 'Hey, you did something, you tried to make a change.'"