The ultimate guide to Kirakira+, a viral app that adds shine and sparkle to your life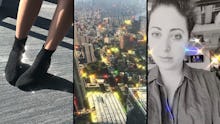 Everything is better with sparkles. There's an app that makes everything — and I really do mean everything — glitter and shine. It's called Kirakira+ and it's been around for years, but it's been gaining popularity with Instagram influencers and celebs like Rosie Huntington-Whitely and Christina Grasso over the past few months.
Keirakira+ is an iOS app that costs $0.99. (There are similar apps available for Google Play.) Once you open it and allow access to your camera, you can start taking the most gorgeous, glittering videos of all time. Rosie Huntington-Whiteley
I found Kirakira+ through Eva Chen, director of fashion partnerships at Instagram. Her videos and images are straight-up magical: Boots look like Wizard of Oz costumes; dresses twinkle like constellations as they move down a Fashion Week runway.
While Chen generally uses the app to highlight pieces that are already sparkly, it's also useful for adding a little glitter to otherwise more mundane things.
There are seven different settings on Kirakira+. To get a sense of what they're like, here they are in order.
A guide to Kirakira+ filters
Kirakira filter
This filter gives you a classic white-and-silver sparkle.
Twinkle filter
This adds more of a colorful sparkle than Kirakira.
Airly
The Airly filter is a lot softer and whiter, with a nice smoky glow.
Color
This filter gives everything in the video a vintage-y faded effect with multicolored sparkles.
Shine
The Shine filter makes everything a bit more shiny and tan.
Bling-bling
This filter has bright sparkles like Color, but doesn't wash out the rest of the image as much.
Glare
Glare gives everything a foggy, hazy look.
How to use Kirakira+
To use the app, open it and give it access to your camera and your microphone. The microphone is optional, but you'll need to give it access to your camera or it won't work at all.
Here's what the app looks like when you're using it (annotated for ease of use):
Want to adjust the level of sparkle? You can do that, too.
You can only take videos with this app, not photos. Videos save directly to your camera roll, where you can upload it to Instagram, Snapchat or wherever else you want.
Shine on, my friends.