Former Congressman Anthony Weiner sentenced to 21 months in prison for sexting a teen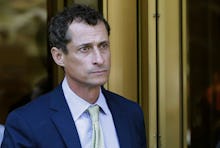 Former congressman and New York City mayoral candidate Anthony Weiner was sentenced in federal court to 21 months in federal prison Monday for "transferring obscene material to a minor."
Weiner pleaded guilty after knowingly exchanging lewd messages on a variety of social media platforms with a 15-year-old girl. Prosecutors had asked for 21 to 27 months of imprisonment ahead of Monday's decision. Weiner's legal team agreed not to appeal any sentence that was fewer than 27 months.
According to reports from in the courtroom, Weiner began to cry as soon as the sentence was announced.
The FBI investigation into Weiner's conduct roiled the 2016 presidential election after it led to the discovery of classified emails on a home computer used by Weiner's wife and longtime Hillary Clinton aide Huma Abedin.
The discovery led then-FBI director James Comey to reopen an investigation into Hillary Clinton's use of a private email server just weeks before the election.