Megyn Kelly shows a softer side on 'Megyn Kelly Today' debut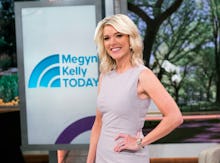 Megyn Kelly is over politics.
Or at least, that's what the ex-Fox News host told a live studio audience on Monday's premiere of her 9 a.m. Eastern hour on NBC's Today show, Megyn Kelly Today.
"[W]e have the entire cast of Will & Grace, along with the show creator, and then we'll be dissecting the latest tweet from President Trump — oh, wait! We will not be doing that," Kelly joked at the beginning of her hourlong program.
"The truth is, I'm kind of done with politics for now," Kelly continued. "I know. You know why, right? We all feel it, it's everywhere. And it's just gotten so dark."
Kelly rose to national prominence (and, to some, infamy) entirely due to politics — from her ultra-political nightly program on Fox News to her clash with then-candidate Donald Trump that began at a Republican presidential debate in 2015.
It's also a change from her more serious Sunday night newsmagazine program, on which her interviews with Russian President Vladimir Putin and conspiracy theorist Alex Jones attracted controversy and criticism. That show, which has brought in mediocre ratings, had a limited eight-episode run but is slated to return in the spring.
The Kelly who walked onstage at Rockefeller Center's Studio 6A on Monday had a friendlier and softer persona than her Fox News style, which was emphasized by cushy interviews and happy-go-lucky segments that were, unsurprisingly, more typical of a morning program than a nightly cable show. Monday's premiere of Megyn Kelly Today, which began with the Will & Grace peg, featured a friendly segment in which she joked with and hugged fellow Today anchors as well as two giveaways — one to a Will & Grace superfan and the other to Sister Donna Liette, a nun who does charity work in Chicago.
The segment with Liette was branded as a "Settle for More" story, the same name as Kelly's memoir released in November that detailed her upbringing and some of her time at Fox News, including an unwanted sexual advance from former Fox News chairman Roger Ailes (who denied the claims).
"Settle for More" seemed to be a side of Kelly the host intended to lean into elsewhere during her program, which featured some of the very people mentioned in her New York Times bestseller. Kelly gave viewers a rundown of her upbringing as she pointed out her grinning mom in the audience, shared a story about her relationship with her late father and accepted a bouquet of red roses from her husband, who emerged from the audience to greet Kelly with a kiss onstage.
Other Today show anchors, including Matt Lauer, Savannah Guthrie, Jenna Bush Hager, Kathie Lee Gifford and Hoda Kotb, appeared on the program to welcome Kelly to the Today family. (Al Roker, who missed the debut for jury duty, sent Kelly a short video message wishing her the best; in an earlier segment, the two rode a tandem bicycle to Rockefeller Center.)
The Today anchors toasted Kelly's opening episode with mimosas, a drink that Kelly, in a recent interview with the New York Times, said would be the cocktail that best describes her new program.
"Here's to the newest addition of our family, here's to many happy mornings, here's to Megyn Kelly Today," Lauer said, raising his glass.
"Now let's get hammered," Kelly said, grinning widely.
Kelly has pledged her show will largely steer clear of politics, although she's indicated in some interviews the subject matter isn't entirely off the table.
"If my producers and I do our jobs, you'll find out what you need to know today to get yourself through the day to have a laugh with us, a smile, sometimes a tear and maybe a little hope ..." Kelly said during the show's opening. "Some fun, that's what we want to be doing."
Kelly's debut week is packed with other morning-show-friendly fare, including a sit-down interview with the cast of This Is Us on Tuesday.
It remains to be seen whether Kelly will attract a big audience in the competitive morning TV landscape — especially as she goes up against ABC's Live with Kelly and Ryan, which hit a three-month high in September by averaging 3 million viewers.