Chinese couturière Guo Pei, the woman behind Rihanna's Met Gala dress, makes U.S. exhibition debut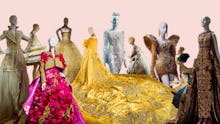 ATLANTA — Guo Pei is no one-dress wonder. If Magnificent Gold — the 50-pound dress Rihanna wore to the 2015 Met Gala — put Chinese couturier Guo Pei on the map, the new exhibition Guo Pei: Couture Beyond, her first U.S. solo museum display, ensures her place in the pantheon of great designers.
"I want to put a lot of craftsmanship and technique into every detail so that hundreds of years from now people look at this work and think, people back then had a very beautiful life' instead of making something quick, which would leave people thinking, perhaps, 'it's an awful life that they lived,'" Pei said in an interview at SCAD FASH Museum of Fashion + Film.
The 46 pieces on display at the new exhibition (crafted with the assistance of more than 500 artisans) include gowns, accordant footwear and accessories — every detail designed by Pei herself.
It's a level of craftsmanship not entirely foreign to American design (see: Mainbocher, Ralph Rucci), but it's largely absent. In the 150 years since the Chambre Syndicale de la Haute Couture Parisienne (the governing body for the French fashion industry that established the industry standard on couture design) was founded in 1868, those men remain the only two Americans to ever have shown at the bi-annual Couture Week. This is all the more reason why American audience's exposure to Pei's work is such a thrill – a rare opportunity to be surrounded by couture design in the flesh.
"The one that touches me the most is the gown adorned with hundreds of vintage silk flowers," Rafael Gomes, SCAD Fash's director of fashion exhibitions, said in an interview.
He continued:
"Guo explained to us that she had rescued these from a storage room of a deserted factory that made silk flowers before the Cultural Revolution. Her team carefully cleaned and restored each silk bloom with steam in order to bring the wilted material back to life. She shared a story from her childhood when her grandmother reminisced about how her silk clothes felt, and the intricate floral embroidery on her clothing. Bringing wilted, vintage silk flowers coming to life is the perfect symbol of her aspirations as a designer."
Although Pei's career spans 30-plus years — including designing for celebrities and political elite alike — she's a relative newcomer to the global stage, having not made her formal Fashion Week debut until 2016 on the Paris runway. That same year, Pei was named one of Time magazine's 100 Most Influential People and one of The Business of Fashion's 500 People Shaping the Global Fashion Industry — an honor she retained in 2017.
Much of that success can be chocked up to her view of fashion as fine art, not a job. "A lot of designers these days don't want to spend a lot of time on one thing. They want to get there quick and they want to think about what they can gain instead of what they can give," she said "Don't focus on what you can gain or get out of it by tomorrow or next year, and instead you focus on what you can gain from this experience 100, 200 maybe 500 years later. Then all of the sacrifice and all of the devotion is a very small fraction."
That devotion can be seen in every detail throughout the exhibition, which runs through March 4, 2018. For those that cannot make the trip down to Atlanta, a book celebrating Pei's work — including images both new and from her archives — will be produced by SCAD and Skira Rizzoli for release in December 2017.
Since memes are in many senses society's new definition of legacy (and Magnificent Gold spawned plenty of those), Pei has easily proven her staying power with her immense proclivity for meticulous precision and craftsmanship. Not to mention, a keen understanding and appreciation of and for beauty.
Perhaps both the crown jewel of the exhibit — and in many sense of Pei's career — is Magnificent Gold, a dress that found its way onto the global stage after Rihanna, who first saw the dress browsing online, reached out to Pei about wearing the garment to the 2015 Met Gala. The onslaught of attention — on the dress, on Rihanna and by proxy on Pei — was entirely unexpected.
"I still don't know why or how it happened," Pei said. "But I think Rihanna made the right choice by wearing that garment. That garment, Magnificent Gold, has a history that long predates Rihanna, first making its not-so-spectacular runway debut in 2012. "When it was first made, nobody really paid attention to that piece," Pei recalled. "And I remember, on the runway the model who wore that garment did terribly [walking] because it was so heavy. A lot of times your work and your expression needs to be worn by the right person at the right place at the right time. When Rihanna chose to wear that piece, she chose to give it another life."
It was a thankful happenstance considering the two-year, 50,000-hour process that the piece — which is hand-embroidered with metallic flowers and trimmed with ochre-hued fur — took to finish.
"I remember the night before I showed the Magnificent Gold, it was the night I completed the piece," she recalled. "I remember sitting in my studio by myself. I could see the reflection of the garment itself in the mirror on the ceiling and I remember I felt that I was in a dream. It felt so surreal that with all the time and emotion that I had committed and devoted to this piece, I felt that it completely exceeded me. And a lot of times I have that feeling."
Asked how she pulled it off, Pei is less than sure, chalking it up to a superhuman force. "Take athletes as an example," she said. "When they're competing and they're in the moment, they've done something that's far beyond what they thought they could do and later you ask them 'How did you do that?' 'Do you think you can do it again' they probably will tell you 'I don't know how I did it.' If you ask me to replicate any of these pieces here, I would probably tell you that that is not possible."
With her solo U.S. exhibition debut finally a reality over two years after American audiences were introduced to her via Magnificent Gold, Pei now commands some authority when assessing the current state of American fashion, which she calls "unique."
"The fashion here is very practical," she said "American fashion focuses a lot on the result and is very commercial. The interesting thing about American fashion is that Americans really appreciate fashion and they really know how to appreciate art. They love and appreciate it, but they don't do it themselves."
And while nothing in most Americans' closets will probably withstand a century, if the Internet is still a thing in 2217, Magnificent Gold, will definitely stick.