North Korean foreign minister calls Trump's comments a declaration of war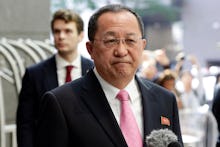 North Korea's foreign minister said Monday that comments made by President Donald Trump over the weekend amounted to a declaration of war, adding that the rogue state "will have every right" to shoot down U.S. bombers within and even outside the country's airspace.
Speaking to reporters at a New York hotel near the United Nations, Ri Yong Ho called Trump's threats to "totally destroy" North Korea — made during Trump's first address to the U.N. General Assembly on Tuesday — tantamount to incitement of war.
"The whole world should clearly remember it was the U.S. who first declared war on our country," Ri said.
Since Trump's comments, saber-rattling between Trump and belligerent North Korean despot Kim Jong Un, already at a fever pitch in recent months, has only intensified.
During a rare appearance on North Korean television Thursday, Kim labeled Trump "mentally deranged"; two days later, the U.S. president called Kim "little Rocket Man."
Doubling down on previous comments made by the Hermit Kingdom, Ri told the U.N. on Friday that Trump's mockery of Kim made it "inevitable" that rockets would "visit" the entire U.S. mainland.