Trailblazing plus-size male model Kelvin Davis lands himself a contract with Bridge Models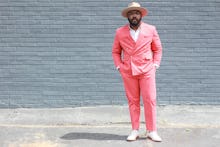 Kelvin Davis, one of the few successful plus-size male models in the United States, who's been in seen in ads for Chubbies as well as that ill-fated #AerieMAN April Fools' snafu, has finally been signed to a modeling agency.
Over the weekend, Davis broke the news to Mic that Bridge Models, a curve modeling agency based in London, has signed him as one their influencers and models.
"This means that hard work and dedication really pay off," Davis said in an email. "I have been turned down by numerous agencies, but I would always be contacted by brands and PR companies to do work on my blog. I continued to use my platform to just simply inspire others — especially men — to love themselves despite the societal standards of male beauty. Being unsigned is hard and I have lived it."
Getting signed has been a long time coming for Davis. He's been blogging about body positivity via his blog Notoriously Dapper for four years now, becoming a leading voice when it comes to male body positivity and the importance of plus-size male models on his popular Instagram, where he has more than 64,000 followers.
Davis now joins Zach Miko in being one of the few high-profile plus-size male models who are signed to an agency. Miko signed with IMG Brawn (a new division for plus-size guys) back in March.
"I have always lived by the words 'hard work beats talent, especially when talent doesn't work hard,'" Davis said.
Bridge Models feels like a particularly good fit for Davis, given their early investment in plus male talent and an entire men's division devoted to plus men.
For Davis, signing to Bridge signifies that the movement he helped grow is making real progress.
"The menswear side of things have been slow when it comes to recognizing that men need body confidence and diversity," Davis said. "I think now that myself and others have established that presence online, people are starting to take notice. We all deserve representation, and I am glad to be some sort of representation for someone out there. I remember growing up as a chubby black boy shopping in the 'husky' section, looking at all the advertisements of blonde-haired, blue-eyed models with abs. That wasn't my reality. So it's nice to have a chance to show people that beauty comes in all sizes, shapes and shades."
Davis hopes Bridge can give support to his message as well as his needs,
"I'm willing to put in the work and I'm determined to keep this message relevant," Davis, who currently works as an art teacher in South Carolina, said. "It's not about me or how much I can gain from this. It's about the message I represent. That message needs to be heard loud and clear. I hope this career change not only helps me personally but also helps spread the message of self love, mental health awareness and the societal standards of masculinity."
Davis has a few important things in the works for the next few months. His book Notoriously Dapper: How to Be a Modern Gentleman with Manners, Style and Body Confidence drops on Oct. 24, and he has his eyes set on fashion dominance himself.
"I would like to possibly start a clothing line or even have a collaboration with a brand," Davis said. "The possibilities are endless. I look forward to whatever the future brings me. I have been blessed to have a successful blog, Instagram, become an author and now be a signed model. If nothing else comes about, what I have done this far has surpassed any of my original goals. But when anything in life when you grow your goals grow as well."