Widow of military veteran: My husband gave his life for your right to protest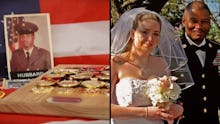 Katie Hubbard believes her late husband, Command Sgt. Maj. James William Hubbard Jr., would've supported Colin Kaepernick and other NFL players' right to take a knee during the national anthem.
In fact, she said, this right is precisely what her husband fought and died for.
"He gave his life, he took the oath that said he would protect and defend the Constitution of the United States of America," Hubbard said in a phone interview Monday.
The debate around the protests was ratcheted up when President Donald Trump, at an Alabama rally, called those who kneeled during the national anthem "sons of bitches." On Twitter, Trump called for players who kneeled to be fired and labeled the protests "disrespectful," saying "courageous patriots have fought and died for our great American flag."
In response to the firestorm, Hubbard tweeted on Saturday, "My husband died for your right to #TakeAKnee. He would have supported you; I support you. Sincerely, a military widow."
Hubbard said the contention that the protests are disrespectful goes directly against what her husband, who served 36 years in the military, fought for.
"For President Trump to say these individuals should be fired for doing what the Constitution says is appalling," Hubbard said. "No person, especially a politician, should tell an individual how they can use the rights that are afforded to them as an American."
Hubbard, who is white, said the basis of Kaepernick's protest — to shed light on the systematic oppression of and discrimination against black people in the United States — is important context that is being left out of the discussion.
"Too many black people in America are becoming a hashtag," Hubbard said. "People want to say that black peoples should do certain things and they won't get shot or hurt, but they do and still are."
"For President Trump to say these individuals should be fired for doing what the Constitution says is appalling."
The veteran grew up in Dublin, Georgia, and was part of the last graduating class of a segregated school. Hubbard said her husband often talked of the hardships he faced as a black man in America, even though he was a decorated military veteran.
"Watching my husband be given a triple take by a white cop upset me. I was appalled that this type of behavior still existed," Hubbard said. "When I was told about areas to avoid with him because we would be pulled over for 'driving while black,' it was a gut punch."
During his tours of duty, he spent time in burn pits in Iraq, which his wife said caused him to be diagnosed with leukemia in November 2008.
James Hubbard died on May 21, 2009.
In November, he was honored by the Atlanta Falcons in the team's Salute to Service campaign.
Hubbard said her husband's experiences with racism opened her eyes — and that protests are one way of enacting change.
"It made me want to work to change things and amplify voices like his. When people are personally affected, or know someone who is, it helps to change things," she said.
And to Hubbard, her husband would have felt similarly.
"He knew that being in the military and being a black man in America that he was not always able to protest and to be vocal in public arenas with how he felt," Hubbard said.
"[He would say], 'I don't have to agree with what you're doing, but I'm there to protect and defend your right to do that.'"