Katherine Johnson will have a NASA research center named after her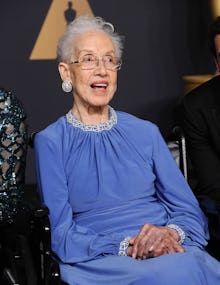 Former NASA mathematician Katherine Johnson finally got some well-deserved recognition after the release of the film Hidden Figures. Now the calculator who helped put the first American in space will have a building named after her.
The Langley Research Center's newest building will be bestowed with the 99-year-old's moniker, NASA announced Friday, and will be known as the Katherine G. Johnson Computational Research Facility.
Johnson worked at Langley during her time at NASA between 1953 and 1986. The new $23 million building, spanning 37,000 square feet in size, is consolidating four Langley data centers.
This isn't the first time Johnson has been commemorated for her efforts. She received the Presidential Medal of Freedom from former President Barack Obama in 2015. In September 2016, her story was retold in the book Hidden Figures, the movie version of which went on to receive three Academy Award nominations.
While the movie centered around Johnson, Hidden Figures also told the stories of two other prolific black NASA workers: mathematician Dorothy Vaughan and engineer Mary Jackson.
There are countless notable American women of color who have moved the needle at NASA. People like Mae Jemison — the first African-American woman in space — paved the way for black women astronauts like Stephanie Wilson, Jeanette Epps and Yvonne Cagle. These former NASA scientists later passed the baton to current NASA employees like Brenda Ellis, Laveda Jackson, Mary J. Lobo, Reagan Malone and Rosalynne Strickland.
As one of the first black women to work for NASA, Johnson will always be iconic. Virginia Gov. Terry McAuliffe commented on her success during the building's ribbon-cutting ceremony. "You have been a trailblazer," McAuliffe said. "When I think of Virginia and the history of what we've gone through … You're at the top of that list."