This vibrant Budapest district is home to art and culture from one important subcommunity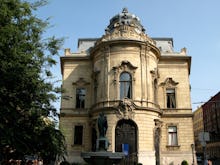 Beloved destinations often have overlooked histories. Mic dives into how the past shapes what travelers see today.
For travelers looking to go beyond visiting the Budapest Parliament and the city's famous thermal baths, District VIII, which is located east of the Hungarian National Museum, is a soulful, gritty quarter that used to be lined with palatial residences. Though it might appear rough around the edges, the walkable neighborhood is filled with hidden gems — it has some of the city's best pizza at Oinos, a cozy, bohemian spot to grab a drink at Hintaló, and artfully decorated guest rooms at Brody House.
There's another reason to visit District VIII — the region is home to innumerable Roma residents who enrich the city's culture. These residents are descended from nomadic, dispersed people who have been vilified as beggars and criminals, facing a barrage of animosity while settling throughout Europe. Budapest's Roma community — like Roma communities across Europe and other parts of the world — continue to face discrimination, but the Romani people are proud of their heritage and they've contributed much to the city's culture.
Roma culture is in the spotlight
Several institutions are actively supporting Roma creativity and educating the public about the Romani people. The Hungarian-American billionaire George Soros helped fund the European Roma Institute for the Arts and Culture, which launched in Berlin in June. The institution showcases underrepresented artists and helps them nurture their self-expression in a supportive, open environment.
Soros, who has championed Roma rights for years, also co-founded Budapest's graduate level-only Central European University, which has a Roma Graduate Preparation Program and Roma in European Societies initiative.
"Raising future generations to think differently about the Roma people is key to change."
Shifting opinions toward Roma people will always be, "a slow process," Iulius Rostas, assistant professor and chair of the school's nondegree Romani Studies program, said. "For centuries the Roma were dehumanized and objectified. So much of this is because of a perception embedded in our social structures."
If you replace the atrocities murmured about the Roma with another minority, like blacks or Jews, Rostas said, it would be horrifying and unacceptable, yet "somehow society says it's okay to do this to the Roma." For Rostas, supporting the Roma with education and housing and raising future generations to think differently about the Roma people are key to change.
How to see Roma culture in Budapest
Visitors can glimpse Romani art at Gallery8, a contemporary art hub located in District VIII. Inside, thoughtful exhibitions crush negative stereotypes, effectively ushering an maligned minority group into a new era of respect and empowerment. Recent shows included dreamy mandala paintings by Klára Lakatos, an Eastern Hungarian-bred artist, and portraits of prominent Roma cultural figures from photographer István Gábor Molnár. A recent group exhibition examined the repressed Romani experience during the Holocaust.
Purchase art at Gallery8 supports artists of Roma heritage, but earning money isn't the goal — raising awareness of this maligned group is.
"I am a member of the Roma minority, but I don't make 'Roma art,'" Vienna-based artist Robert Gabris, who had an exhibition at Gallery8, said in an email. "Racism and inequality are much bigger than just reducing it to the Roma issue. My work should touch everyone."
Fashion designer Erika Varga, founder of the studio Romani Design, is also using art to bring awareness to the Roma plight. Sunny, energizing hues of turquoise, pink, red and yellow are often paired with silver and gold in her pieces. To evoke migration and nature, Varga uses roses and motifs of the sun, moon, and stars.
Her clothing presents "a digestible way of expressing Roma culture in a modern context," Varga said in an email. The new annual collection will address the relationship between Roma and Hungarian culture, subtly attempting to dislodge prejudices through design yet again.
Visitors to Budapest's Castle District can find Varga's colorful clothing at Fian Koncept, a duo of boutiques full of arty pillows, handbags and tableware. Hababa Designer Store and Gallery in the center of the city also stocks her vibrant, politically charged threads.
Romani music shares strong similarities with Hungarian folk music and includes haunting violins and guitars. The beguiling music can be heard throughout Budapest at a number of bars and cafes like the cozy Potkulcs or Giero Pub, or while feasting on goulash at such classic Hungarian restaurants as Szeged, Kehli and Margitkert.
Why you're unlikely to find a Roma restaurant
If you're hoping for a taste of Roma cuisine, you might be able to taste a traditional dish at a Hungarian restaurant. But Roma cuisine is best experienced at home. Roma people typically have little income so they often don't have the capital to open restaurants. Using humble ingredients like chicken drumsticks, potatoes and cabbage, the Roma use a "from scratch" simplicity that reflects love and ritual.
That's why the boutique Budapest wine shop Tasting Table hosted a Roma dinner in 2015, and guests devoured a farmer's cheese dip, stuffed peppers and cinnamon challah made by a local Roma woman. The dinner was such a success that Tasting Table is in the process of planning another one for 2018.
At the dinner in 2015, guests watched Tasting Table co-founder Gábor Bánfalvi, an avid home cook, lovingly kneaded dough for dessert. Later musicians used wooden spoons to perform a rousing rendition of "Gelem, Gelem" — often considered the Roma anthem.
"People are interested in learning about this culture and these flavors," Bánfalvi said in an email. "Hungarian food is extremely colorful and Roma cooking, like Jewish and other regional cuisines, is a big part of our heritage... There aren't many opportunities like this."