One service member on why he supports NFL players' right to take a knee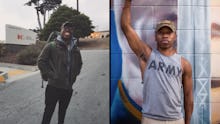 This Army reservist is vocally standing up for Colin Kaepernick — and every player who followed his lead in choosing not to stand for the national anthem — because, as he said Monday, defending peaceful protest is the patriotic thing to do.
"I think it's important for people, service members especially, to speak on supporting Kaepernick's actions, because it's a foundational action of patriotism to peacefully protest a perceived slight by the state," activated Army reservist Koran Hackman, 22, said in an email interview.
"Soldiers who give their lives do so for the betterment of this nation and to sustain the way of life granted to us by the Constitution," Hackman continued. "Not for the flag, the anthem or any other contrived emblem of patriotism. The effort, sacrifices and choices made are for the American people to live as we believe American people should live: freely."
Sunday's wave of #TakeAKnee protests were spurred when President Donald Trump announced at an Alabama rally Friday that NFL players who didn't stand for the national anthem should be fired, saying he'd love team owners to say, "Get that son of a bitch off the field right now" when "somebody disrespects our flag."
In response, scores of NFL players on Sunday showed solidarity with former NFL quarterback Colin Kaepernick — who began the peaceful protest in 2016 as a demonstration against police violence against black Americans — by taking a knee during "The Star-Spangled Banner."
On Monday, Trump said on Twitter that kneeling during the anthem was "about respect for our country, flag and national anthem." He and other critics of Kaepernick have invoked the wrath of fans who believe kneeling during the anthem insults service men and women.
Hackman said he felt the need to speak out against this narrative, joining the #VeteransForKaepernick hashtag Sunday and tweeting, "We don't join to serve/honor a flag or song. We join for the people and the expectations of what America could/can be."
For Hackman, the son of a Marine father and a soldier mother who grew up on military bases all across the country, the peaceful protest wasn't an insult to his service — it showed the American values he believes in.
"My stance on this is a pro-American one at its core," Hackman said. "I think there's no better form of patriotism than to peacefully take action when you perceive a grave injustice to have occurred."
Hackman joined the Army Reserve in 2014 and now lives with his wife in California, where he is training to become an Army linguist.
"In the three years I've been in service, I've really grown a love for not what the country currently is, but what it could be," he said. "The America I envision is an inclusive, prosperous and safe nation, where the American dream is attainable through sufficient hard work without a predilection of marginalization due to color, creed, ethnicity, gender or sexual orientation."
To Hackman, using peaceful protest as a method to "push America [toward] a more perfect union" is, as he put it, "the most American thing since apple pie and Sunday night football."