J. Kenji Lopez-Alt on bad food trends, cultural appropriation in food and his upcoming restaurant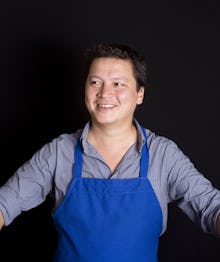 "Kenji!"
I was walking alongside J. Kenji Lopez-Alt at Pig Island, a pork festival in New York City, when a man in a plaid shirt stopped us mid-stroll.
"I don't want to disturb you, man, but I love your work. Nice to see you and enjoy the day!" plaid shirt man said. Lopez-Alt smiled, sheepishly thanked him and the two did a haphazard fist bump. (Lopez-Alt was holding a pork taco in his hand, so it was an entirely appropriate greeting.)
Kenji, as many in the food world know him, is a first-name celebrity in his own right. He's been there, cooked that to the extreme — The Food Lab, his cookbook-slash-encyclopedia exploring the science behind home cooking, is based on his Serious Eats column of the same name, which earned a James Beard Award.
Lopez-Alt and his wife had a baby six months ago; "I only check my email once a week," he told me. But the cooking savant is still very much involved in food. Mic caught up with Lopez-Alt about Wursthall, the San Mateo, California restaurant in which he is a co-partner, and his thoughts on other hot topics in food.
Mic: How has your background in food media informed Wursthall?
J. Kenji Lopez-Alt: Writing for an online community and having been in the publishing world for so long, I have a good tap on what what people like to eat. Not to say that we're chasing a trend or anything like that, but I have a good idea of what delicious is and what people think is delicious.
As far as cooking techniques, we're going to be cooking things in interesting ways that are designed not to be show off-y, but bring consistency and quality to what we're serving. All of our sausages will be cooked sous vide first, so they're the exact right temperature and perfectly juicy. And then some will be finished on a grill, some will be finished on a griddle, some will be poached.
Which dishes are you most excited about?
JKLA: We're doing a schnitzel sandwich that's based on breaded pork-tenderloin sandwiches. There will be a bun that's essentially a handle for it — most of it, you're eating just the schnitzel and then, [at] the handle and you get a few bites of sandwich part at the end.
We're doing currywurst, which is a staple German street food, served with our own curry sauce — we're charring ginger and garlic, frying mustard seeds and cumin seeds and a bunch of other spices, and blending with tomato and vinegar.
Instead of plain french fries, we're boiling whole small new potatoes, crushing them by hand and then frying them so you get these super craggly fried potato bites.
Then we have the sausage — my wife is Colombian and salchipapas, fried hot dogs and fries, is her favorite snack food. We're taking our wurst and we're cutting it like that — in one-inch segments and then scored across into each side so it gets a ton of crispy surface area and it curls up when you fry it.
My plan is not for this to be a really chef-y type of place. I'm coming up with a menu and designing kitchen operations so it can be executed by the cooks who are there, with minimal chef oversight. Consistency and product are a really difficult part of restaurants. 
Lots of Instagram-friendly restaurants benefit from social media users posting photos of neon signs, photogenic food and such. Will you be catering to Instagrammers in your restaurant?
JKLA: I use Instagram a lot. That kind of stuff is sort of embedded in my head. We're not saying, we have to do this because people will post it on Instagram. But, you know, a dish like fried potatoes is just cool looking. I think we'll get word of mouth out through social media. 
What is one restaurant trend or food trend you'd like to see die?
[Laughs.] Poké. I don't want to see it die, but it's everywhere and most of it isn't very good. To me, it's not particularly appealing, the way most places do it. I don't want my fish served to me with an ice cream scoop. It just seems weird to me. I would be happy not to see any new poke restaurants. Definitely sushi burritos, get rid of those. 
Some people criticize chefs and recipe bloggers when they cook "ethnic" or non-white food. When is it OK for a chef to cook another culture's food?
JKLA: It's always OK to cook another culture's food. When is it OK to serve it and to build a restaurant around it? I'm of the mind that [it's ok] as long as you're respectful of where another cuisine comes from and understand its cultural and historical significance and understand that you're a guest to the culture.
There are some people who say, "Rick Bayless shouldn't cook Mexican food." Rick Bayless spent years of his life backpacking around Mexico to learn, and he understands the culture better than anyone criticizing him. It's his personal experience with Mexican food as much as it is authentic Mexican food, and he should be able to share that.
People only ever seem to get upset when it's a minority culture, [like] South American, Asian, soul food or African food. But I'm opening a German beer hall. I've been to Germany a couple times, but I'm not German and it's not my culture... nobody would say, "Oh, cultural appropriation! Look at this Asian guy opening up a sausage hall!"
I think [critics] aren't considering how much people put into studying the culture and understanding it and promoting it. Cross-cultural pollination is great — it's how we grow and how we experience new things. The more you can expose people to that, the better. 
What about people who criticize chefs for capitalizing on another culture's cuisine?
JKLA: You don't open a restaurant for the money, and anybody will tell you that. The idea that someone would do something like that just to capitalize on it seems like ... there's no capital to be found it it. Unless you're a superstar chef who runs multiple restaurants, then maybe you're making a little money. But if you're a chef in the kitchen every day at your own restaurant, you're doing it because you like the food and you appreciate it.
Maybe, as much as the chef should research the culture and the history of the food they're cooking, maybe you should research the chef who's cooking it — why they are attracted to it, what it means to them. Maybe you'd see that it's not just a cheap grab. Which is not to say there aren't any cheap grabs at all.
If you could open another restaurant after Wursthall, what would the concept be?
JKLA: A fried chicken sandwich shop. I've been working on this recipe and doing some pop up shops in New York and San Francisco.
It's a Southern-style fried chicken brined in kimchi juice, a mashup between Nashville hot chicken and Korean fried chicken. It gets that spicy, garlicky, sort of sour pickle flavor. I emulsify [the chili oil sauce] with gochujang and soy sauce and a couple other Korean flavors.
If I ever open [more] restaurants, they're all going to serve three or four items and those items are going to be great... I'm very much of the mind that if you want to do things, do them well.
This interview has been edited and condensed for clarity.