Rules of the Road: Joe Jonas on his ideal vacation and why he can never pack light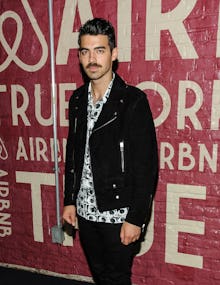 Travel has always been a big part of Joe Jonas' life — from family trips as a teenager to his hectic tour schedule with his band, DNCE, he's constantly visiting new places. We sat down with the singer while he was on board Royal Caribbean's total solar eclipse cruise to perform a duet with Bonnie Tyler, and talked about his travel routine, his shopping addiction, and his surprise love of cruising. Mic was on the ship as a guest to cover the total eclipse.
Mic: What's your earliest travel memory?
Joe Jonas: I traveled [to the Caribbean] as a kid a couple of times. We had family vacations to the Bahamas, and it was always a really fun experience. There was so much to do, whether it was the water parks or just sitting in the sand. On one of my early trips, I tried to go parasailing and I guess I just missed the time and it was closing, because it was getting a little too dark. I was so bummed. The next morning, we got up early so I could go — it's one of my fondest memories. On my 15th birthday, I was on a cruise. It was really amazing. There was an arcade on the cruise, so I drank too many Shirley Temples and played video games all day.
What's your ideal vacation now?
JJ: When I was younger, [we did] a lot of active things. Now I just want to do nothing. I try to go to bed early — which usually doesn't happen — and force myself to do little and take in what I see.
What makes a vacation for me is good family and good friends. Surround yourself with them, bring them along. A tropical drink, or 10. Feet in the sand, and looking at some blue water. I like finding a beach bar and just posting up for most of the day.
What's your favorite drink at a beach bar?
JJ: I like a throwback, and a piña colada will always do the trick. Mai tai, Miami Vice — anything tropical and tons of sugar and I'll be fine.
Where was the last place you traveled that left a strong impression?
JJ: Venice, Italy, became one of my favorite places in the world. It's incredible to see something that was completely built [on water], and you have to go everywhere by boat. We went to Venice and we went to Florence, and I had a lasagna in Florence that I actually took photos of — and I'm usually not the person to take photos of my food. We all shared about two bottles of wine, it was one of the most memorable meals and definitely a place I'll go back to. I couldn't even pronounce [the name of the restaurant] if I tried.
What's it like to perform on a cruise ship?
JJ: The first time I performed on a cruise ship was about six months ago, on another Royal Caribbean cruise. Performing with Bonnie Tyler, having this icon walk out on stage, was one of my favorite days of my life. Not only do you get to sing her song, but you get to sing it with her on a solar eclipse. It sounds like a romantic comedy pitch, because it's just so out there. We had the best time and we're still kind of in shock.
The crowds can be a little different sometimes than a DNCE show, but all the people that are watching want to be there. And that's what's special about it. I've seen grandfathers dancing and little kids in the front row singing along. We try to combine fun and work with anything we do. It's hard not to have fun when you get to go on stage and play your own music and live your dream.
Do you have any packing tricks?
JJ: I'm bad at this because I always think I pack light, and then I end up buying suitcases when I travel because I buy stuff. I collect toys. We came from Asia for two weeks, and I found all these amazing old toys that I grew up with. I have a suitcase full of toys in my room somewhere on this boat. Of the band, I think Jack [Lawless] packs the lightest. He's pretty impressive with it. He'll have a backpack for a month tour.
What's your best piece of travel advice?
JJ: There are a few rules as a band we live by. Number one is always bring your bathing suit. [One day I'm] skiing, and a day later I'm on a boat in Miami. So you never know what situation you're going to be in. Number two is bring your neck pillow. You don't know if every flight or train or bus is going to have a pillow when you need it.