Plus-size model Emme first started modeling in 1989. 28 years later, she made her NYFW debut.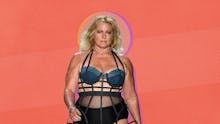 In 1994, Emme made history as the first plus-size model to land on People's 50 Most Beautiful list. In 1997, she was reportedly the first plus-size model to appear on a billboard in Times Square, standing over ten feet tall, selling Liz Claiborne. That same year, she was one of Glamour's Women of the Year. In 1998, she made history as the first plus-size model to land her own contract with a major beauty company — Revlon.
All that combined, and she became widely known as the very first plus-size supermodel. But back during Emme's most active modeling days, in the 1990s, walking in New York Fashion Week as a plus-size model remained a pipe dream.
"I would sit in the front row, when I was with Revlon," Emme said in a recent interview. "I kept on thinking, 'How funny is this?' I'm able to watch this, but I wonder if any of the gals could be on this runway. I would never in my wildest dreams thought would I be. There were no designers that were showing at 7th on Sixth [the NYFW venue at the time] that would ever, I mean ever, consider it. We all had to change."
And change the industry did. In September, during NYFW, Emme finally made her debut, walking for the consistently well-cast Chromat show, which had curve models and plus-size models and transgender models and Emme, who is 54 years old.
"Chromat called and said 'We'd love to have her come in,' and I said, 'Really?'" Emme said. "Knowing Chromat, you could be hardly clothed or fully clothed. They had a beautiful dress and I go, 'So what's going on with the cage?' So she's like, 'OK, try it on.' I try it on and she was like, 'I want you to walk like a badass' and I did!'"
As a sign of just how fashion is changing, days after Emme's debut, model Natalie Nootenboom made her NYFW debut, becoming the first plus-size model to walk for Anna Sui. She's 16. Looks like you don't have to wait until you're a certified supermodel and 54 anymore.
Emme first started modeling in 1989, after seeing an ad in an in-flight magazine seeking curvier models at Plus Model Management. As luck would have it, she ended up running into the star-making agent Susan Georget, who'd go on to sign people like Natalie Laughlin, Kate Dillon and Ashley Graham.
"I had a unibrow, no highlights, I wore red lipstick with a polyester black and white jumpsuit," Emme said. "So I walk in and Susan was there, and she just said, 'Can I help you?' I said, 'Well, I just saw this article on modeling.' She said, 'Wait right here. We want you right now.'"
At the time, Emme mostly got booked for catalogues and commercial work. Moving over to Ford after Plus Models, her world opened up a bit, and by her estimate, she was traveling 300 days a year, posing for campaigns like Liz Claiborne, and continuously booking catalogues domestically and internationally. But it wasn't like Gianni Versace was calling her name.
"It was beyond me that people really were holding tight to that very small aperture of beauty," Emme said. "Truly from the core of the industry, it was like, 'This is fashion, darling. You guys are utilitarian back there.'"
One of the biggest issues facing plus-size models at the time was pay equity, according to Emme, with plus models not getting paid nearly the same amount as straight-sized models for the same work.
But the allure of these models did get boosted by the very existence of Mode magazine, which was like a plus-size woman's Vogue. Emme graced the cover multiple times, and landed campaigns and editorials in its pages too.
What eventually landed her at Revlon was a deal with the William Morris Agency, which also helped her get into TV and hosting gigs, on channels like E!, where she'd talk about what it was like being a plus-size woman.
"I did guest appearances on sitcoms and the goal was to get into the culture zeitgeist as 'the curvy girl,'" Emme said. "Attending all the must-go places and parties. I had wonderful opportunities working with networks and shooting pilots. I think the messaging that was coming through was that there needs to be a bouquet of beauty represented, so women and kids don't feel like they're outside of everything all the time."
Then, after some re-evaluating in the mid-2000s, she took a step back from modeling and focused on lecturing and thinking about what her legacy would really be. That's when a lightbulb went off in Emme's head, and she started thinking about what she could do to make the biggest impact in plus-size fashion.
"Why don't I think about bringing in a design school within a university and talk to them about teaching all their design students about how to have an inclusive fashion education?" Emme recalled. "Not only would you have 0-, 2- and 6-size mannequins, but size 16, 18 and 20 too."
The students would be taught how to make patterns for women of different sizes, and even how fabrications look on different body types. "I thought about even illustrations, and opening the hand to learning the curve of a woman's body and not just the stick," Emme said. "Bringing it together for real inclusive education."
Emme approached Syracuse University — her alma mater — first. They immediately bit and, in 2014, the program Fashion Without Limits was born.
"Change is gonna happen when the pain of not changing is greater than the change itself," Emme said. "When I first started the program, those kids were dragging their feet. Now, they realize that if they understand how to design plus-size clothing, they are tapping into an incredibly powerful industry, and they will be successful."
As a trailblazer herself, Emme, in a state of disbelief, and also relief, has seen the industry boom. This is progress that Emme thinks is going to stick.
"It's not going to slip backwards into a trench," Emme said. "Our success no longer depends on the right person having the right publicist. I'm seeing agents getting much smarter on how to market their top-tier girls, who are fierce and working it and making history, just like I did."
To her, we are living through a revolution. "The power of women is much more than we're ever given credit for," Emme said. "When you take a look at the faction of women above a size 12, there's been a revolution taking place in the last five years of more respect for the plus-size woman. And I want the industry that sells to 'her' to really, really understand that she is driving the boat. She is very loyal but don't underestimate her power, because if she stopped buying bags, if she stopped buying makeup for three days, everyone would feel it. That is the truth."