Ally Lee Steinfeld is at least the 21st transgender person killed so far in 2017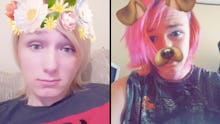 Ally Lee Steinfeld, 17, of Houston, Missouri, became the 21st known transgender person killed so far this year when her remains were found in rural Missouri this month. Her family had reported her missing on Sept. 14, saying they hadn't seen the teen in a couple of weeks, the Associated Press reported in a story that misgenders Steinfeld.
Steinfeld identified herself as transgender in several posts on social media: In a May Instagram post she wrote, "I coming out I am mtf I hope all u guys support me." In another she wrote that she was "Trans male to female" and identified as both a lesbian and pansexual.
In June she posted an Instagram with the caption, "I am proud to be me I am proud to be trans I am beautiful I don't care what people think."
Three suspects have been charged in Steinfeld's death, the AP reported. Andrew Vrba and Isis Schauer, both 18, and Briana Calderas, 24, were charged Thursday.
Vrba reportedly told investigators that he had tried to poison Steinfeld before stabbing her in Calderas' Cabool, Missouri, mobile home. Vrba also told authorities that he, Calderas and Schauer burned Steinfeld's body and disposed of it outside Calderas' home.
Schauer and Calderas reportedly admitted to helping to dispose of Steinfeld's body. The three are being held without bond, the AP reported.
On Tuesday, Steinfeld's Facebook page was filled with messages from mourners: "Rest in Peace, Ally. My heart aches for you and your friends and family who are mourning your loss right now," one wrote, another said Oh little sister, my soul weeps for your loss. Ally Lee, your community will always love you."