Roy Moore wins Alabama GOP Senate runoff, handing Trump an embarrassing electoral defeat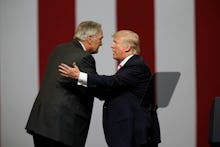 President Donald Trump was dealt an embarrassing electoral loss in Alabama on Tuesday night, after Republican primary voters rejected his chosen candidate in a U.S. Senate runoff election.
Despite enjoying Trump's endorsement, the Associated Press has called the runoff in favor of conservative firebrand Roy Moore over incumbent Luther Strange. Just before 10 p.m. Central time, with 62% of precincts reporting, the AP reported Moore was up 56% to 43%. Moore now moves on to a general election with Democrat Doug Jones for the chance to serve the remainder of now-Attorney General Jeff Sessions' term.
In rejecting Strange, Alabama Republicans sent a signal that a Trump endorsement won't necessarily translate to electoral success — even in GOP primaries.
Trump had gone all in for Strange in the race, holding a rally Friday in support of his candidacy and sending out multiple tweets urging voters to choose Strange at the ballot box. (Trump deleted the tweets after Strange's loss.)
Ultimately, however, that endorsement wasn't enough to push Strange over the finish line.
The race was such a blowout that the Senate Leadership Fund, a super PAC with ties to Senate Majority Leader Mitch McConnell, congratulated Moore even before the AP called the race.
Strange — who was appointed to fill Sessions' vacancy by the state's disgraced ex-Gov. Robert Bentley — couldn't shake his "establishment" image. Moore, on the other hand, was able to capitalize on his support from conservative grassroots voters who have known him for years, thanks to his incendiary comments on issues such as religion and same-sex marriage.
Moore also received the backing of former White House chief strategist Steve Bannon, who painted a Moore victory as a blow to establishment Republicans like McConnell.
"Your day of reckoning is coming," Bannon said at a rally in support of Moore, addressing McConnell and other Republican Party strategists.
Moore is now the favorite in the race to replace Sessions, given Alabama's strong Republican bent. However, Democrats see a potential opening in a race against Moore, who has a controversial past.
Moore was twice removed from his role as chief justice on Alabama's state Supreme Court — once in 2003 for refusing to remove a Ten Commandments monument from the courthouse, and again in 2016 for refusing to issue same-sex marriage licenses.
Moore has made other inflammatory comments, including claiming that the 9/11 attacks were punishment because the U.S. had "distanced" itself from God.
"If you go to verse 25, 'There should be up on every high mountain and upon every hill rivers and streams of water in the day of the great slaughter when the towers will fall.' You know, we've suffered a lot in this country, maybe, just maybe, because we've distanced ourselves from the one that has it within his hands to heal this land," Moore said, referring to 9/11.
Democrats also point out that Moore underperformed Mitt Romney in the 2012 elections, when Moore was running for a seat on the state Supreme Court and Romney was the Republican nominee for president.
Zac McCrary, a Democratic pollster based in Alabama, said in an interview that Jones — a former U.S. attorney in Alabama under former President Bill Clinton — is the kind of candidate who could appeal to voters, even in deep red Alabama.
"Doug Jones is a strong candidate," McCrary said. "He comes from blue-collar roots and [is] a former prosecutor who has put murderers and drug dealers in prison. So I think can be the right kind of Democrat who will get consideration from Alabamians who otherwise knee-jerk toward Republicans."
A recent poll found Moore with only a slight lead over Jones.