On the ground at Milo Yiannopoulos' free speech rally in UC Berkeley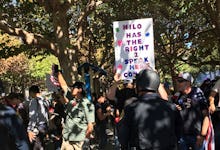 Conservative provocateur Milo Yiannopoulos had promised a four-day extravaganza dedicated to free speech at the University of California, Berkeley, featuring far-right speakers like Ann Coulter and Steve Bannon. Instead, his brainchild "Free Speech Week" fell apart before it even started.
The UC Berkeley student group hosting the event series pulled its support at the last minute, speakers rescinded their invitations, and high profile attendees like Ann Coulter announced they never planned on coming in the first place. Yiannopoulos, in an attempt to save face, held a rally on the UC Berkeley campus on Sunday, delivering brief remarks in front of a group of a few dozen supporters. Outside the police barricades, hundreds of anti-fascist and anti-racist activists protested his appearance.
Mic's Jack Smith IV was on the scene and spoke to UC Berkeley students about Yiannopoulos' speech on campus, and their views on free speech.