Here's why you're not hearing enough about Puerto Rico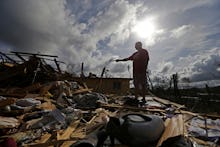 Nearly one week after Hurricane Maria swept through Puerto Rico, leveling towns and decimating agricultural systems, reports from the tiny U.S. territory have been dire — and scarce.
With the island's energy infrastructure demolished and vital resources like food, medicine and potable water in short supply, journalists' ability to transmit news to and from the most hard-hit areas has been impeded. But according to residents on the ground who have been able to get in touch with reporters, the prognosis is grim.
"The devastation in Puerto Rico has set us back nearly 20 to 30 years," Jenniffer González-Coló, resident commissioner, told the Associated Press. "I can't deny that the Puerto Rico of now is different from that of a week ago."
Here are some of the biggest challenges journalists have faced in reporting the biggest humanitarian crisis in Puerto Rico's history — and what you can do to stay up-to-date with all the latest information.
No cellphone service means limited means of communication
According to the Atlantic, fewer than 250 of Puerto Rico's 1,600 cellphone towers are currently functional, making communication with remote areas nearly impossible.
While contact with residents in major metropolitan areas like San Juan has been easier, Atlanta resident Silkia Babilonia told NPR on Friday that she still hadn't been able to get in touch with friends and family on the island's west side.
"I tried to call every single number have for them, cellphone and landlines, but nothing," Babilonia said. "We're trying to stay calm, pray and hope everything is alright."
Entire access roads and bridges have been swept away
But cellphone service isn't the only thing that's been wiped out in the wake of Maria's high-powered winds. According to the most recent reports, damage to the island's infrastructure has been "apocalyptic" in some areas, with entire roads washed away and debris blocking access to some of the more isolated regions.
In an interview with CNN, González-Coló said it's been "devastating to see all that kind of debris in all areas, in all towns of the island."
"We never expected to have a lot of debris in so many areas," she added. "A lot of roads are closed, older ones are just gone."
The fractured sprawl of highways has prevented journalists and first responders from accessing certain areas and has also isolated some of Puerto Rico's key officials, rendering them unable to provide updates to the media.
Resources have been sorely depleted
On Tuesday, Federal Emergency Management Agency administrator Brock Long took aim at the media on Twitter for its failures in covering the humanitarian crisis unfolding in Puerto Rico.
"While media hasn't focused on #Maria, FEMA and its partners have," Long tweeted. "10,000 federal staff working to meet @ricardorossello response goals."
But CBS News correspondent David Begnaud contested Long's version of events.
"We'd love to," Begnaud wrote in response to the tweet. "We tried to interview you yesterday. You took no questions. Why don't you let us follow a team delivering aid to needy people?"
As the lack of key resources — including food, water and medicine — reaches a critical level, "hysteria is starting to spread," Manati Mayor Jose Sanchez Gonzalez told the Associated Press.
"The hospital is about to collapse. It's at capacity," he said. "We need someone to help us immediately."
As first responders like Long struggle to meet the needs of battered island residents, the needs of a hungry press eager to shadow the beleaguered rescue teams seem likely to be bumped as secondary concerns.