A veteran on why he supports #TakeAKnee: "We cannot let a bully intimidate us into keeping silent"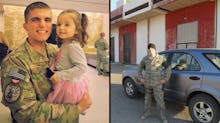 Football stadiums across the country became ideological battlefields Sunday after President Donald Trump, while speaking at a rally in Alabama on Friday, called on NFL team owners to fire any "son of a bitch" player who takes a knee during the national anthem.
Joseph Riello Jr., a 29-year-old Air Force veteran, saw Trump's comments and the ensuing debate as an opportunity to speak out in support of any player or ally who chooses to #TakeAKnee — because, as he said in an email interview with Mic, "We cannot let a bully intimidate us into keeping silent."
Then-49ers quarterback Colin Kaepernick began kneeling during the national anthem in 2016 as a form of peaceful protest against police violence and racism. The protest spread to other NFL players, but after Trump's comments Friday, scores more joined in kneeling or linking arms during "The Star-Spangled Banner" on Sunday.
As Kaepernick himself has made clear, his act of protest has always been about racial justice in America and intended to draw attention to police brutality. Yet critics of the protest, including Trump, have continued to insist that kneeling during the anthem is disrespectful to the American flag or to military service members.
Riello, who tweeted his support for the protests with the hashtag #VeteransForKaepernick on Sunday, said assuming members of the military would be offended by the protests does them a disservice.
In his email, Riello said he would want any critics of the #TakeAKnee protests who invoke veterans when expressing their displeasure to know that "veterans are adults who can handle someone using their right to protest peacefully."
Riello grew up in Las Vegas and enlisted in the military in 2007, straight out of high school. He served in the U.S. Air Force Security Forces, which "basically means I was the Air Force version of military police," he said.
He first deployed to Iraq in 2008 and later served in Kuwait, Jordan and Afghanistan.
Far from being offended by the choices of NFL players who take a knee during the anthem, Riello said he encourages their protest.
"The entire reason people like me join the military is because we love this country and are willing to risk ourselves for the safety of others," he said. "If Americans are not allowed to express those freedoms, then what are we signing up for?"
To Riello, Trump's claim that the #TakeAKnee protests are about the flag is "frustrating."
"I am disgusted that [Trump] is using the anthem, the flag and the military as his personal shield to attack protestors," Riello said. "I want to let Colin Kaepernick and every other athlete who decides to protest [know] that you are supported by this veteran, and I am proud that these athletes and people are willing to risk their jobs for their convictions."