The fight for a lobster emoji: How one little symbol can impact tourism, restaurant sales and beyond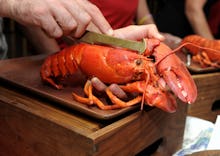 It's hard to believe, but our smartphones have yet to feature a lobster emoji.
On Sept. 22, Sen. Angus King (I-Maine) sent a letter to Unicode Consortium, the organization behind smartphone emojis. In his letter, King extolled the economic value of emojis, writing that "people in Maine — as well as others across the world — understand that the lobster is a culturally and economically important animal." King recently authored a resolution establishing Sept. 25 as "National Lobster Day" that the Senate passed, cementing his status as the politician cracking into lobster public relations.
Others have joined the ranks to elevate the humble crustacean. Luke Holden, a co-founder of the chain Luke's Lobster, advocated for the crustacean emoji by creating a Change.org petition with a goal of getting 5,000 people to support Unicode making a lobster icon.
Holden said that businesses rely on social media to communicate with customers in real time, and none of the current emojis, like the crab and shrimp emojis, are fit to be used in lieu of a lobster. "We have been using the hashtags #NoLobsterEmoji and #LobsterEmoji," he said in an email.
Lobster is the official crustacean of Maine and it's synonymous with the state's tourism. Maine's "lobster culture" helps attract tourists, who spend money that represents one-fifth of the state's total sales.
"Did I ever think we would be in a world where the digital lobster was a bigger topic than the real thing? No," Holden said. "But I also never thought I would see entire statements, books and even movies dedicated to emojis — and here we are."
The proposed lobster emoji would look like this.
The emoji makers at Unicode Consortium have bestowed new food emojis on us in the past. Thanks in part to lobbying by Taco Bell, the taco emoji debuted in 2015. And the avocado, kiwi, carrot, peanut, pancakes, bacon and more debuted in 2016.
"The push for a lobster emoji just reminds people that lobster is a true icon and something to be celebrated in Maine and around the world," Matt Jacobson, executive director of the Maine Lobster Marketing Collaborative, said in an email, noting that the lobster is a "symbol" of Maine, a state whose heritage is rooted in coastal communities.
If the lobster emoji were unleashed on the world, perhaps other cities would do well to emoji-fy their local eats. Philly cheesesteaks, we're looking at you.