Pregnant Kylie Jenner is just the latest offensive Halloween costume to fume over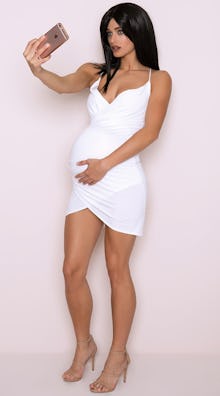 Welcome to Halloween Costume Outrage Season. In 2017, we've already got our Sexy Fake News, Border Patrol agents and now a costume that Yandy.com is selling as "Reality Star in the Making" — which looks a whole lot like a pregnant Kylie Jenner, complete with those lips and a selfie-ready iPhone.
"Boost your show's ratings in this exclusive Reality Star in the Making costume featuring a white dress with a V-neckline, criss-cross spaghetti straps, a ruched and wrapped bodice and a faux pregnant belly with a tie back closure," the costume description reads.
The wig, the phone and that dramatic matte pout is not included in this nearly $60 costume.
People already have mixed reactions to this, especially considering Jenner's pregnancy hasn't been confirmed by her or her family. Some started predicting the costume once the rumor leaked, while others are downright offended.
"Mocking a real person's pregnancy is not OK, and thus, this look should be filed away in the vault of inappropriate Kardashian Halloween costumes," Teen Vogue's Zoe Weiner wrote.
There's certainly been quite a few of those. There was the transphobic Caitlyn Jenner "Call Me Caitlyn" costume back in 2015, and the 2016 "robbery victim" costume that alluded to Kim Kardashian West's horrifying Paris robbery.
In this case, though, we do have to say Jenner is 20 years old and it's unclear how she feels about this pregnancy. She could be incredibly excited, which means the costume doesn't feel exactly as violent or offensive as the other two. Jenner is entirely able to provide for a child financially and has a family that will undoubtedly support her every decision.
So, equating this pregnancy to those particular costumes doesn't feel appropriate. That being said, this costume is obviously mocking the star, which isn't necessarily "nice."
But in any case, for $60, you can find a much better dress than that.