An exclusive look inside Denmark's epic new Lego House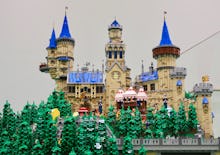 On Sept. 28, the Lego Group will unveil their state-of-the-art Lego House in the Danish town of Billund, a three-hour drive from Copenhagen, where the world-famous brick was founded. A hybrid between a museum and an indoor theme park, the hands-on space was built with the Lego name in mind — the trademarked name is a spin on the Danish phrase "leg godt," which roughly translates to "play good."
"We're dedicated to providing a premium Lego-building experience," Lego House general manager Jesper Vilstrup said in an interview. He added that quality control will be key: tickets (199 kroner, or $30, per person) can only be purchased in advance, and admission is capped at 2,500 visitors a day. They're even committed to melting down the bricks every few months and minting new ones to maintain the brand new look and feel of the Legos that visitors can play with. Vilstrup estimates that an immersive visit will take around three to four hours.
While Adult Fans of Lego, or AFOLs, are busy booking their visits, we bypassed the line for a first look at the ultimate shrine to the toy brick. And we can say for certain that Everything is Awesome inside.
The backstory
After selling a controlling share of Legoland Billund to Blackstone in 2005, the Lego Group sought to create a new experience of their own. Initially thought of as a small museum, the idea morphed into a veritable test lab where visitors could play with the blocks and grasp their infinite creative potential. Fun fact: six pieces of interlocking plastic yield 915 million construction combinations.
And it's the almighty brick that forms the very literal shape of the Lego House's design, too — a creation by wunderkind Danish architect Bjarke Ingels. (If you're a New Yorker you likely have strong feelings about his pyramid-like spaceship ziggurat, VIA, on West 57th Street.)
Inside the Lego House, a massive Lego tree grows from the lobby level leading all the way to the exhibition halls on the higher floors. The 51-foot tree is a nod to Lego's humble beginnings (before the invention of the plastic mould, Lego was made of wood) and evokes Biblical imagery. It's made of over 6.3 million bricks and, according to the guide, would take an amateur builder roughly 12 years to construct.
The zones
After climbing the stairs that ring around the Tree of Life, you'll wind up in the first of the Lego House's six zones. The Masterpiece Gallery elevates the brick from a toy to an artist's medium, showcasing some of the finest works from Lego's international community of amateurs.
The other four zones on the upper levels reflect the different ways in which the brick dials into our emotional, social and creative competences (and really drives Lego's agenda home that kids shouldn't be playing with iPads).
There's a non-scripted area (the Red Zone) with swimming pool-sized basins of miscellaneous blocks just waiting to be stacked into quirky creations. You can even take a short class with resident builders to fully unleash Lego's potential, like building giraffes from a simple assortment of black and yellow bricks.
Visitors to the problem solving room (the Blue Zone) can build cars to race against their friends, while in the emotional realm (the Yellow Zone), guests can assemble a fish out of basic bricks, scan their creation into a computer and watch it swim around in a virtual aquarium.
The Lego Movie comes to life in the Green Zone, with an elaborate mini figure universe that includes skyscrapers, snow-capped mountains, and fairytale castles. You could easily spend an entire day ogling the different scenes — eagle eyes will spot a ton of easter eggs, like a character playfully making fun of former Lego CEO Kjeld Kirk Kristiansen who famously fell off a Segway and broke his leg.
You can also build your own mini figures and carry them around from station to station to have them photographed for the cover of a magazine, or feature them in your very own stop-motion video. Don't miss the chuckle-worthy movie posters on the wall with puns worthy of a RuPaul's Drag Race contestant.
Bathed in black and solemnly accented with dim lighting, the basement-level History Collection feels most like a traditional museum, narrating the 85-year history of the brand (and detailing an alarming amount of factory fires.) The nostalgia is really dialed up with a showcase (half physical, half digital) featuring every single Lego set ever sold. Even if you're not a fan, it'll be nearly impossible to restrain yourself from breaking through the glass and tearing open a boxed set.
The public spaces
As part of the plan to reaffirm Billund's international reputation as the Capital of the Brick, the Lego Group also wanted to create something for the local community. In addition to the pay-to-play experiences, kids will dig the series of public climbing structures on the rooftop, sprouting up from squishy flooring, specially engineered to withstand tumbles and Denmark's famously inclement weather.
There are also three food and beverage offerings that can be accessed without having to pay the entrance fee. Order a casual "brickacchino" at the Scandi-sleek cafe, or head upstairs for a prix fixe meal at Le Gourmet (get it?), headed by Mikkel Laursen, who was crowned Denmark's Chef of the Year in 2016. Our favorite option is Mini Chef, the family restaurant, where patrons quite literally build their bento-style meals out of an assortment of colorful bricks (each one signifying a different selection on the menu). Diners scan their constructions at the table, and — after a series of hoots, clicks and bonks — an edible version of your Lego creation appears.
The team is aware that visitors may "accidentally" steal a mini figure from the galleries. "We can't prevent theft," Vilstrup said. "We are training our staff that if you see someone walking out with their pants full of Lego we will address it, but if it's a small guy picking up a mini figure then hopefully he or she will get a great experience from the mini figure when they get home as well."
For those who are more conscious about their souvenirs, there's a brilliant gift shop on the way out the door. It features an assortment of limited-edition Lego sets — even a super-cool Beatles-themed box — so you can continue to "play good" at home.