Graham-Cassidy bill is dead as GOP admits "we don't have the votes" to repeal Obamacare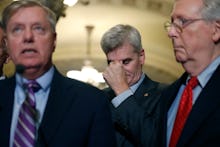 The latest Republican-led effort to repeal the Affordable Care Act is officially dead.
Senate Majority Leader Mitch McConnell told Republicans at a meeting on Tuesday that he will not hold a vote on the health care legislation introduced by GOP Sens. Lindsey Graham and Bill Cassidy, according to multiple reports.
"We don't have the votes. We made the decision that because we don't have the votes, we will postpone the vote," Cassidy told reporters on Capitol Hill, according to CNN.
The decision not to hold a vote on the Graham-Cassidy legislation came after Sen. Susan Collins (R-Maine) announced she would not vote for it. She became the third Republican to announce a no vote, joining Sens. John McCain and Rand Paul.
Losing three votes put Republicans shy of the 50 needed to pass the bill.
Not holding a vote on the Graham-Cassidy legislation means Republicans will officially miss the Sept. 30 deadline that would allow the GOP to repeal the ACA without any Democratic support.
If the GOP-controlled Congress wants to repeal the ACA, it will now need to garner Democratic support, or pass a new budget.
Graham, however, said he's optimistic that Republicans will eventually repeal Obamacare.
"With a process that gets more attention and time, we will repeal Obamacare," Graham said Tuesday.