Bob Corker is the latest moderate Republican to announce plans to retire from Congress in 2018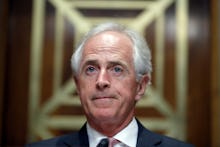 Sen. Bob Corker (R-Tenn.) revealed Tuesday that he won't seek re-election in 2018, becoming the latest moderate Republican to head for the exit.
Corker joins three House Republicans who have also announced retirements, some of whom pointed to President Donald Trump and the "chaos" of his administration in their decisions to leave Capitol Hill.
Corker didn't mention Trump in his announcement that he will leave Congress after his current term expires at the end of 2018.
Trump allies, including former White House strategist Steve Bannon, had reportedly been looking to field a primary challenger against Corker, who has often been a Trump critic.
"The president has not yet been able to demonstrate the stability nor some of the competence that he needs to demonstrate in order to be successful," Corker said in August, according to CNN.
Corker leaves behind what should be a safe Republican seat in 2018 — Trump won the state with 61.1% of the vote in 2016.
However, Democrats will likely try and field a strong candidate for the race, at the very least to force Republicans to spend resources to defend the seat.
"Vulnerable Republican incumbents see the writing on the wall — they don't want to defend their disastrous health care agenda, which is toxic with voters of every political persuasion, and are terrified to engage in divisive and expensive primaries," Lauren Passalacqua, communications director for the Democratic Senatorial Campaign Committee, said in a statement.
"Senator Corker's decision is the latest example of a key theme driving GOP Senate primaries across the country: Divided and leaderless, Republican Senate campaigns have nothing to run on but a string of broken promises, and this dynamic will continue to define Republican Senate primaries across the map," she added.