Sofia Vergara's new intimates collection comes with an unexpectedly empowering twist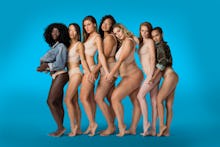 I hear her familiar laugh as I am ushered through the corridor of Penthouse II at Manhattan's NoMo SoHo Hotel. I round the corner to enter the sun-drenched room and there she is, Sofia Vergara, slinked low in her chair, head resting where her back should be, waiting for me. I'm the last interview in what I'm told has been an arduous press day (that is unless you count The Tonight Show, which she'll be appearing on later that evening). And while her body language shows some slight exhaustion, her demeanor when greeting me is nothing but verve. "I'm going to be incoherent at this point," she tells me.
"You're going to love these chairs," she says as I settle in next to her. I sit, and immediately a trust is formed since, yes, this chair is remarkably comfortable — would recommend.
We're here to discuss EBY, Vergara's new subscription-based underwear company launching Wednesday. With no short supply of intimates on the market, Vergara knew her name recognition alone was not enough to create a successful company. Instead, she thought about what the market was lacking.
"I wasn't necessarily looking to sell underwear," she explains. "But it happened that it was the perfect combination of things: First, it was a product that I truly believed in — and that's the number one, most important thing in any product that I work for or endorse."
Those products include houseware company, SharkNinja, where Vergara is a partner, a line of contemporary furniture with Rooms To Go and her fragrances Sofia, Love and Tempting. As for endorsements, she is a brand ambassador for CoverGirl (seven years running) and the global ambassador for Head and Shoulders shampoo.
What ultimately sealed the deal was the unique philanthropic opportunity this venture had baked in, with a purpose-driven effort to reposition underwear as a tool for women's empowerment. Ten percent of EBY's net sales go to the Seven Bar Foundation, a 501(c)(3) nonprofit organization, to empower women out of poverty and into business via microfinance with a small loan.
Each loan enables an underprivileged woman around the world to start or grow her business. It can be as small as $80 in India, to help a woman maintain her fish stand, to $2,600 in the U.S., for an Etsy start-up. The goal here: to end the cycle of poverty.
How the product itself works is simple: A box of three select styles of your choosing — which include thong, cheeky, brief, G-string and bikini — priced at $48 arrives in the mail quarterly. It's not just affordability Vergara's eyeing — its sizing, which EBY offers up to a 4X.
"Nowadays, all women are embracing their bodies," Vergara said. "We need to include everyone, embrace everyone. We wanted to fill the void. The reality is, the more sizes, the more women that can purchase this underwear and the better the business is for us, the more we can give back, the more women we can empower. It was the intelligent thing to do to include everyone."
She may be television's highest-paid actress, but that doesn't mean she is disconnected from the women she hopes to impact. "I've always felt like I needed to empower myself," she said. "I needed to create businesses for myself so I could help my son. I was a single mother very young so I knew I needed money, I needed products, I needed things to be able to give him college, health insurance, all the things I wanted for him. And I knew if it was important for me, it was important for every mother and every woman out there. Sometimes they don't even know it, but a little helps. A little empowerment can bring out things in a woman they didn't even know they had in them. Women are very nourishing. And once they have money, they don't use it to gamble or go drinking. They really use it to help their families, their kids. So then it starts helping the whole community."
If there is a criticism to be made of the initial line, it is the colorway. In a post-Fenty Beauty world, offering only one shade of nude on models of varying skin tones seems like an obvious missed opportunity. Increased inclusivity is an ongoing effort, and easily something that could be addressed in the future.
As our time comes to a close, I ask Vergara one last question: her thoughts on the prospects for the Pittsburgh Steelers this season (Vergara's husband, actor Joe Manganiello, is a die-hard fan, and so, by association, is Vergara).
"I hope for the best because that means there is going to be peace in my house," she says with a laugh. And with that, Vergara, not quite done for the day, jets off to the Ed Sullivan Theater. No rest for the giving.