8 things to know about the political career of Roy Moore, likely the next senator from Alabama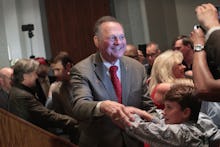 Welcome to Mic's daily read on Donald Trump's America. Want to receive this as a daily email in your inbox? Subscribe here.
Every day, we bring you a different dispatch on Trump's America. Today's focus: Alabama.
Wednesday's dispatch: Freedom Caucus, welcome to the Senate
Dealing with conservative ideologues is nothing new for Sen. Mitch McConnell (R-Ky.). Lawmakers like Sen. Rand Paul, a fellow Kentuckian and staunch libertarian, have torpedoed the Republican agenda more than once, including recent opposition that contributed to the death of Graham-Cassidy.
But Roy Moore's GOP primary victory in Alabama on Tuesday may bring McConnell a whole new level of opposition among his 52 Republican senators.
Moore, an ardent evangelical who has repeatedly sought to bring religious teachings into the courtroom, handily dispatched Sen. Luther Strange, the Republican McConnell supported who was tapped earlier this year to fill now-Attorney General Jeff Sessions' Senate seat.
Interviews with Moore and reporting on his past has turned up examples of a worldview that is deeply motivated by a conservative interpretation of Christian beliefs. Some recent examples:
• In an interview with Vox, Moore said: "There are communities under Sharia law right now in our country." (There are not any communities under Sharia.)
• "We put ourselves above God. And in so doing, we forgot the basic source of our morality," Moore told churchgoers in Alabama shortly before the election. The Washington Post reported Moore lambasted the removal of God from government.
• Moore has twice been elected to and removed or suspended from the Alabama Supreme Court. The first time, in 2003, came after Moore refused to support removal of a granite monument of the Ten Commandments from the State Capitol building. The second came in 2016 after he urged state judges to defy the U.S. Supreme Court ruling on same-sex marriage.
• In 2012, Moore said same-sex marriage would lead to the ultimate destruction of the country.
• In 2002, he wrote homosexual parents were "detrimental to the children."
• CNN found that as late as December, Moore did not believe Barack Obama was born in the U.S.
• Over the summer, he called Islam a "false religion."
Moore has promised to be a staunch conservative voice in the Senate. That means demanding things like a full repeal of Obamacare, which is why he joined Sen. Rand Paul in opposing Graham-Cassidy. This gives McConnell even less room for error, assuming Moore is elected, as it has been difficult so far to get 50 or more Republicans to agree on major legislation.
Democrats sense an opportunity, even if it is a long shot. "Voters can't look past Roy Moore's fringe beliefs, habit of putting himself first and his dishonesty," Sen. Chris Van Hollen, head of the Democratic Senatorial Campaign Committee, said in a statement. "Even Republicans have said Moore is unfit to serve and spent millions to keep him out of office." They are touting their nominee, Doug Jones, to voters in advance of the Dec. 12 general Senate election.
President Donald Trump was quick to distance himself from Strange. The president deleted two tweets sent Tuesday that supported Strange and tweeted his congratulations to Moore, who was backed by former Trump White House confidantes Steve Bannon and Sebastian Gorka.
Moore has promised he will support Trump. But the same cannot be said of Moore's willingness to back McConnell, whom Moore repeatedly bashed on the campaign trail.
2018 stands to be even more dysfunctional for Senate Republicans if Moore wins out in December.
Today's question: What does Roy Moore's election say about America? What does it say about how Republicans are feeling about Trump? Email us at trumpsamerica@mic.com.
Wednesday in Trump's America:
Senators will not vote on the Graham-Cassidy legislation. The last-ditch Republican effort to "repeal and replace" the Affordable Care Act lost the support of Sen. Susan Collins (R-Maine) on Monday afternoon. By a day later, Republican senators announced they would not vote on the legislation before Sept. 30 — the deadline to pass a reform bill with only 50 votes in the Senate. (Republicans hold 52 seats.)
Grassroots opposition to the bill was overwhelming from the left. Planned Parenthood said it drove more than 350,000 phone calls to Congress and held 2,700 events across the country during the health care fight.
On Wednesday morning, Trump claimed health care reform still has life. He is saying the Senate should drop the filibuster rule so Graham-Cassidy or other legislation could advance with only 50 votes after Sept. 30.
Sen. Bob Corker, Republican of Tennessee, will not seek re-election next fall after a dozen years in the Senate. Republicans and Democrats alike put out statements expressing sadness over his departure.
Students and faculty at Georgetown University protested an address by Attorney General Jeff Sessions on Tuesday. During that speech, Sessions said free speech at college campuses is under attack, criticizing the cancellation of speeches because of protesters.
Mic dives into why it has been so difficult to report from Puerto Rico. And the president is taking heat for not coordinating a faster response to the devastation in the U.S. territory, where most people still do not have power.
Twitter is piloting letting people send 280-character tweets. (Prepare for political tweet storms that are twice the length!) Mic's Cooper Fleishman explains why that won't solve the website's problems.
A tax reform outline drafted by six Republicans in private will be released publicly on Wednesday. It is expected to cut taxes on businesses and wealthy Americans alike — though Trump said Tuesday he does not want to see tax cuts on the rich. It's also not expected to be highly specific. Trump will make a push for the legislation at a speech in Indiana.
The administrator of the Drug Enforcement Agency, a former aide to former FBI Director James Comey, will resign.
Under fire for charter flights he's taken as health and human service secretary, Politico reported Tom Price flew to a Georgia resort where he owns land on the taxpayer dime.
Russia watch: Sen. Richard Blumenthal (D-Conn.) said he is "99% sure" former national security adviser Michael Flynn and former Trump campaign chairman Paul Manafort will face criminal charges out of the Russia investigation.
Today's MicBite:
The airport in San Juan, Puerto Rico, reopened to flights again on Friday, but it can only accommodate a dozen trips a day. That has left thousands of people stranded at the airport. Tap or click below to watch the video.
Correction: Sept. 27, 2017