Make Up For Ever gets dragged after comparing itself to Fenty Beauty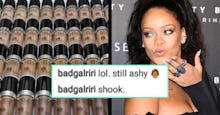 An important lesson: Don't come for Rihanna unless she sends for you.
After Make Up For Ever tried to compare its shade range to Fenty Beauty's, that's exactly what it learned. On Tuesday, the makeup brand posted a picture on Instagram of its own shade range, alluding to the idea that it's more impressive than Fenty Beauty's revolutionary 40-shade range, which has been praised for its inclusivity from people with super dark skin as well as people with albinism.
"40 shades is nothing new to us," the brand wrote. "Since 2015, the Ultra HD foundation released 40 shades for everyone's unique skin tone understanding the difference between red and yellow undertones. With expertise, time and passion — we shall continue to develop and improve our products for pros, for you, for everyone..."
Rihanna fans knew exactly what the brand was trying to do, and made damn sure they didn't get away with it.
"Even with those 40 shades, women of color still couldn't [find] their shade," one commenter wrote. Another: "Did you release those 40 shades in ONE launch like Fenty Beauty or did it take you years to expand the shade range?"
A question worth answering.
It was causing a big enough stir that, per screenshots captured by Rihanna fans and @TheShadeRoom account, Rihanna herself allegedly decided to weigh in, and bless us with the clapback to end all clapbacks.
"Lol. still ashy" she wrote. And then: "shook."
Rihanna has a history of being an iconic Instagram user, leaving comments that call out men who make up rumors that they're dating her, and putting fat shamers on blast too. So really, these comments are believable.
"DO NOT, I REPEAT, DO NOT COME FOR MISS ROBIN FENTY EVER AGAIN," a commenter wrote after Rihanna's own alleged comments. "Don't be shady if you ain't ready for that clapback! Y'all tried it!" another one chimed in.
Honestly for anyone even thinking about coming for Rihanna, that's good advice.