The mayor of San Juan issues a desperate plea for help: "We are having a humanitarian crisis"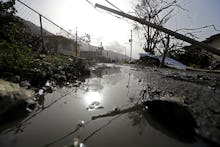 With Puerto Rico reeling from the devastation of Hurricane Maria — and in dire need of food, water and aid — the mayor of its capital city, San Juan, is desperately pleading for help from the mainland.
San Juan Mayor Carmen Yulín Cruz spoke to CBS News' David Begnaud on Tuesday in an emotional interview about the state of the island. "I know that leaders aren't supposed to cry, and especially not on TV," she said through tears. "But we are having a humanitarian crisis and we're doing all we can, and the worst fear is that we cannot get to everyone in time."
Cruz told Begnaud that two people had already died in a San Juan hospital because the facility ran out of diesel fuel. "We need to get our shit together," she said. "And help needs to get in people's hands. Not tomorrow, not later, now."
One of the issues, Cruz said, is that while Federal Emergency Management Agency employees are on the ground, they're tied up by the bureaucracy and waiting for orders from higher-ups.
"They're good men and women, they want to be out there," she said. "But they're waiting for their marching orders."
It could likely take months, maybe even longer, to restore power to all of the island — and Maria destroyed some 80% of Puerto Rico's crop value, flattening plantain, banana and coffee farms.
On Tuesday, Trump announced the administration would wave a regulation requiring Puerto Rico to match FEMA relief funds in an effort to speed up aid, NBC News reported Wednesday.
However, lawmakers say the administration isn't doing enough to address the severity of Puerto Rico's needs.
Rep. Nydia Velázquez (D-N.Y.) said the waiver, which only applies for the next few months, wasn't enough, and called on the White House to waive the Jones Act for at least a year — removing the requirement that all transport of goods to Puerto Rico be done by U.S. ships and allowing faster and more cost-effective transport of supplies.
For Cruz, the most essential thing was that people in the mainland U.S. realize that lives are hanging in the balance.
If help doesn't come soon, "Hundreds of lives will be lost. And I don't know how else to scream and shout and say it," Cruz told CBS News. "This is the time for action."