Ireland Baldwin on her new Guess campaign, and her fight to distance herself from her famous parents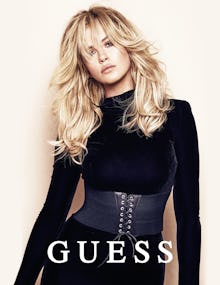 For her entire life, Ireland Baldwin has been defiant. She's been defiant of the fame passed down from her parents — Kim Basinger and Alec Baldwin. She's been defiant of following her parents' own paths to fame and celebrity and fortune. All she's wanted is to pave her own path, craft her own career and define her own success. For her, at least for now, fashion and modeling is letting her do that.
According to Baldwin herself though, she didn't grow up wanting to be a model.
"My earliest memories of fashion sparked from seeing my mom's career," Baldwin said in an interview. "I've had, honestly, like, no interest in fashion my entire life. It wasn't really something I cared for or knew much about."
Baldwin yearned for a normal job, like working in a coffee shop, but it was her mother who ultimately convinced her to at least try modeling, noting that it could afford her the luxuries of crafting her own career, meeting the world's most interesting people and controlling just how famous she gets.
"I don't want to be so famous that I can't step outside of my house and not have the entire world talking about what sandwich I'm eating," Baldwin said — understandable.
Standing at six feet tall with blonde hair and ice-blue eyes, it isn't hard to believe she's already found success, with a contract with DT Model Management and a shiny new campaign with Guess. Given her Guess Girl status, she now stands among her icons like Anna Nicole Smith.
"This was something for me where, honestly and truthfully, it's been on my list," Baldwin, who's worked with True Religion and covered international issues of Elle and Marie Claire, said. "With any agency, they ask you the five realistic or unrealistic goals of jobs or campaigns you wanna land. Guess was always something on my list. I've loved that they've always celebrated and honored a classic woman as she is, and a womanly figure. With those timeless models, those are the people I've looked up to for so long. Getting this was the most out-of-body experience."
Alongside Baldwin at DT are other daughters of Hollywood, like Steven Spielberg's daughter Destry, and Sean Penn and Robin Wright's daughter Dylan. So obviously — and she admits this herself — she has benefitted from her parents fame, despite fighting so hard to separate herself.
"It's definitely put my foot in the door, being able to meet many of the people I've met through my parents," Baldwin said. "I'm forever grateful for the doors my parents have opened for me."
But, at the same time, she's had to deal with issues models unrelated to celebrities usually don't encounter.
"It's also a curse because people have an expectation of me and who I'm supposed to be," Baldwin said. "I must look like my mom. Constantly I'm a prisoner of expectation and I think that's harmful to someone for their overall image. You're trying so hard to be yourself, but every day I'm reminded, well, I don't look like my parents, I'm not my parents."
To anyone who wants to credit Baldwin's parents for her own success, all she can say is this: "There's a lot of things I could do in my career and life that would have made me more successful than now, rolling with the cool kids. I'm not dying to have a reality show or become famous. The best thing I can say to anyone that thinks they know me or that I have the thought in my head that I'm gonna run on my parents' coattails to success is that I want to become my own person and I want to do it my own way."
Baldwin is trying — hard — to create her own definition of success, and keep her eyes on the craft of modeling herself.
Luckily in that regard for Baldwin, who's just 21, she's been able to arrive in modeling at a time when you don't have to fit in a mold and build your career in one way. At first glance you may think that Baldwin is entirely modelesque, but she notes that she has tattoos and, in her own words, isn't "tiny." Given that, what's eased her into the idea of modeling is the success of women like Ashley Graham.
"For so long I was so discouraged when it came to modeling, but now that I'm learning that you can be your own person and you don't have to fit a mold anymore, I love it," Baldwin said. "There's so many trailblazing models out there, like Ashley Graham, who's the most beautiful girl I've ever met in my life in person. I love everything she stands for and what she's doing, because I think that, especially for this industry, it's now about the story you tell."
Since the industry right now is moving away from one ideal of perfection, Baldwin feels much more comfortable being a part of it.
"I'm in the time in this modeling world now where I'm riding that wave as well," Baldwin said. "I'm much more encouraged than I was before, thinking I have to be a size whatever and have blonde, straight hair. Now it's like, embrace who you are! You still have to work hard, keep in shape and maintain the image you want to get across to your followers, to your fans, but I think it's just such a cool time to be a part of it, because it's so much more creative and accepting of people for who they are."
What she sees in her own career crystal ball is her keeping her head down and working hard, and continuing to prove people wrong.