Trump deletes tweets about Luther Strange following primary loss — which may be against the law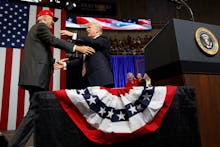 President Donald Trump's endorsement of Alabama Sen. Luther Strange didn't translate into electoral success Tuesday night. Now, Trump is trying to distance himself from the defeat — and potentially violating a law in the process.
Strange was defeated by former Alabama Supreme Court Chief Justice Roy Moore in the state's primary election Tuesday that determined who will take over the Senate seat formerly occupied by now U.S. Attorney General Jeff Sessions. Trump was a vocal supporter of Strange's campaign, and the loss may be seen as a sign that Trump doesn't have the political sway over his Republican base that he claims.
"If Luther doesn't win, they're not going to say we picked up 25 points in a very short period of time, they're going say, 'Donald Trump, the president of the United States, was unable to pull his candidate across the line,'" Trump himself predicted during a rally for Strange on Friday, the New York Times reported.
In the wake of the election — Moore defeated Strange by nearly 10 points — Trump is apparently now making moves to erase his support of Strange, at least on Twitter.
Following the election, Trump deleted three recent tweets that proclaimed his support for Strange, as well as a message congratulating Moore that he ultimately reposted, according to ProPublica.
In his now-deleted tweets, Trump proclaimed Strange "has proven to me he will never let you down," as well as a false claim that Strange "has been shooting up in the Alabama polls since my endorsement."
In actuality, polls cited by RealClearPolitics show that Moore's lead in the polls only grew following Trump's endorsement of Strange in August. More recently, a poll conducted following Trump's appearance at a rally for Strange on Friday found that Moore was 11 points ahead of Strange. Of those who responded to that poll, 37% said Trump's endorsement had no effect on their vote, while 31% said it made them more likely to vote for Strange and 29.5% said they were now more likely to vote for Moore.
The deleted tweets were all sent on the day of the election or the evening before; Trump's older tweets praising Strange still remain.
This isn't the first time Trump has removed his own tweets. According to a list of deleted tweets archived by ProPublica, Trump has frequently deleted his Twitter messages, both before and after his inauguration. Often, tweets appear to be deleted due to spelling errors — on one occasion, it took Trump three tries to send a message after he repeatedly misspelled the word "heal" as "heel."
But Trump's frequent deletions might not be legal in the first place. Trump's tweets — even those on his personal Twitter account — are considered to be part of the presidential record, according to the National Archives and Records Administration. This means that they're subject to the Presidential Records Act of 1978, which stipulates that administrations can only dispose of records "that no longer have administrative, historical, informational or evidentiary value" if the president "obtains the views, in writing, of the archivist concerning the proposed disposal of such presidential records."
Because of this, NARA says it has advised the White House that it must capture and preserve all of Trump's tweets for the record, including those that have been deleted. But with many tweets getting deleted minutes — or even seconds — after they're posted, there's concern that those tweets aren't getting preserved as they should be.
Two government watchdog groups, Citizens for Responsibility and Ethics in Washington and the National Security Archive, filed a lawsuit in June against Trump, alleging that the deleted tweets — and the White House's apparently rampant use of encrypted messaging apps — have violated the 1978 act, noting that the administration's failure to "maintain and preserve records as the PRA requires ... has produced an actual, tangible, and irreversible harm."
"On information and belief, from the outset of the Trump administration, the president, his staff, and [the Executive Office of the President] have failed to adopt adequate policies and guidelines to identify and segregate presidential records in the first instance. This failure keeps presidential records from being managed and preserved pursuant to the PRA," the lawsuit alleges.
According to NARA, the White House has said it is capturing and preserving Trump's tweets as the law requires. But if that's not the case, Trump may have much bigger problems than Strange's defeat.