Transgender model Teddy Quinlivan opens up about coming out: "I felt a responsibility"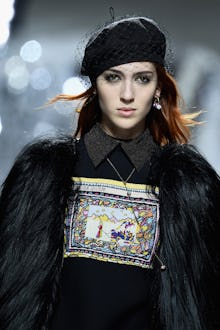 At this point, the question really isn't "What shows has Teddy Quinlivan walked during fashion month?" but "What shows hasn't she?" In New York, London, Milan and Paris, Quinlivan has dominated all the most high-profile shows, from Margiela to Dior to Marc Jacobs to Gucci to Fendi to Versace.
And to think, at the end of NYFW, she took the time to make the life-changing announcement by coming out publicly as transgender.
"I felt a sense of urgency," Quinlivan said in an interview with Mic. "I was watching people like me progress under the Obama administration and then swiftly treated like second-class citizens by the Trump administration. I felt a responsibility to my transgender community to come out and share with the world that trans individuals are contributing members of society who deserve the same respect as cisgender individuals. I will always be trans and there is nothing wrong with being transgender. I'm proud of who I am."
With that in mind, Quinlivan wanted to make sure that her announcement and life story were as public as possible, and seen by not only her peers and the fashion community, but those people who still have things to learn and understand about transgender people. That's why she chose an outlet like CNN, with its wide audience.
"Coming out for me was going to be public no matter what I did because I'm a public figure in the fashion industry," Quinlivan said. "I decided that if I was going to come out I wanted to do it right, with a high level of taste. I thought CNN would be the right place for my story and would reach people who might learn from what I had to say. I wanted my story to be seen not only by people who were already members of my community, but also people who may not have been exposed to trans people and their stories."
What she got in response to her announcement was a wave of positivity. Many of the largest and most powerful figures in fashion came out in support of her, like Marc Jacobs and Pat McGrath and trans model Arisce Wanzer. Wanzer said in an interview with Mic that she was proud of anyone like Teddy. "My hope for Teddy and all of us is that she continue to thrive as she always has and show the world that our community is beautiful," she said.
"I've been so shocked to see how many people read the article or saw the video and wrote to me, letting me know how touched they were," Quinlivan said. "From the biggest names in the fashion industry, to parents of trans children, I've had so many wonderful people tell me how much my personal disclosure meant to them."
What's sent a message too is Quinlivan's domination of fashion weeks in New York and over in Europe. That, she hopes, sends a definite message to the industry.
"I want people to realize that we are capable of reaching the highest, most elite echelons of the industry and thriving at those levels," Quinlivan said. "I'm a woman first and foremost, and I'm very dedicated and hardworking. I always give 110% and I want to be great at what I do. I want people to see that being transgender doesn't affect my ability to perform."