Trumpism is now bigger than Trump. What does that mean for the president — and America?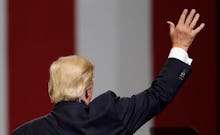 For a long time, he was relegated to the far-right fringe of American civic life.
He promoted the racist conspiracy theory that Barack Obama was not born in America. He engaged in ugly Islamophobia, once opining that "Islamic law is simply incompatible with our law." He achieved notoriety, in part, through years of outrageous, attention-grabbing statements to the media.
For all his similarities to Donald Trump, Roy Moore — the extreme evangelical ex-judge vying for Attorney General Jeff Sessions' former Senate seat — was not the president's preferred candidate.
Trump had campaigned (and, yes, tweeted) in support of Moore's primary opponent, "Big" Luther Strange — a staunch conservative in his own right, but one with more of a relationship to the Republican establishment than Moore, whose win Tuesday has been regarded as a rebuke of Senate Majority Leader Mitch McConnell and members of what Trump, during his own campaign, described as the "swamp."
That Trump has governed from that swamp rather than draining it has added to the frustrations of his base, elements of which have recently said they feel "betrayed" by him.
Indeed, despite spending his first months in office working to roll back the accomplishments of former President Barack Obama and continuing to play to the far right in his rhetoric, a segment of his base has lamented him for not going far enough in his culture war — and appear to be seeking out new leaders to follow through on the promises that catapulted him into the White House.
MAGA moving on from Trump?
While Trump has suffered the lowest approval ratings of any president on record, Republicans generally continued to back him even as his administration remained mired in chaos.
But an August poll suggested that support from his base was beginning to wane — a sentiment that likely intensified with the ouster that same month of chief strategist Steve Bannon, the unkempt figurehead of the so-called alt-right.
Though Bannon, in his return to Breitbart News, vowed to "go to war for Trump," he has — at times — butted up against the president, whom Breitbart mocked as "Amnesty Don" over his immigration deal with Democrats.
Rep. Steve King (R-Iowa), one of Trump's closest allies, also blasted the president for working with "Chuck and Nancy," tweeting in September that his base would be "destroyed ... beyond repair" and that "no promise is credible" if Trump cuts a deal on Deferred Action for Childhood Arrivals program recipients.
King, a fellow immigration hardliner, later said he would "stick with" Trump — but notably suggested his loyalty was not to the president himself but to the agenda he ran on.
"There's a whole lot of things we need to accomplish," King told CNN on Sept. 16. "Even if we don't get everything we want, including the president, we need to follow through on all the things that we believe are right for our country."
Moore — who was backed by Bannon and Sebastian Gorka, another former Trump official — is the most recent example of populist conservatives backing the message, if not the man behind it.
That may spell trouble for the president, who is likely counting on a loyal base to give him cover as investigations into his campaign's alleged Russian ties intensify. Bereft of his core supporters, Trump could be left even more isolated, further jeopardizing an already stalled legislative agenda.
But it could also be a troubling sign to Trump's many critics, as it suggests his anti-establishment "make America great again" message has staying power in spite of his unpopularity. It could also suggest, as the New Yorker's Benjamin Wallace-Wells wrote Wednesday, that Bannon and others in Trump's populist base are seeking to "rescue" him from what they see as the diluting forces of McConnell and other party leaders.
"Bannon and his allies seem intent on proving to the White House that Trumpism is a more potent force than Trump," Wallace-Wells wrote. "On Tuesday, that message seemed to carry."
After the Alabama primary Tuesday, Trump deleted tweets that showed his support for Strange and congratulated Moore on his victory, calling him a "great guy" and someone who will "help to #MAGA."
Moore now faces Democrat Doug Jones in the state's general election in December.