Thanks to new 'Overwatch' comic 'Searching,' we finally know Sombra's real name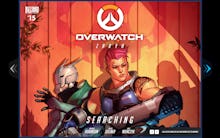 Blizzard just released a brand-new comic called Searching for its multiplayer shooter game, Overwatch. Like most other Overwatch comics, this one focuses on just a handful of characters. Zarya takes center stage this time around, but the comic's most dramatic reveal is that we finally know Sombra's real name: Olivia Colomar.
The comic, which takes place immediately after the end of the animated short that revealed Sombra at 2016's BlizzCon, kicks off with Katya Volskaya sending Zarya on a mission to pursue Sombra. For a quick plot recap, the Mexican hacker Sombra has been blackmailing Katya with intel that would reveal her ties to the Omnics, a group she purports to be enemies with.
Along for the ride with Zarya on her Sombra-punching quest is Lynx Seventeen, a teal-jumpsuit-clad Omnic with a snarky attitude who has no qualms calling out Zarya's myopic, judgmental views of his people.
As you might expect, Zarya's and Lynx's interactions evolve as the two get to know each other, offering a hint that Zarya's allegiances to her beloved Mother Russia might be a bit more malleable than we thought.
The Searching comic is available for free on the Overwatch site.