Trump says he's considering lifting 1920 law keeping foreign aid from reaching Puerto Rico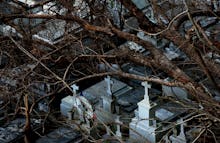 Appearing before the press Wednesday afternoon, President Donald Trump announced he was considering lifting the so-called Jones Act, a 1920 maritime law preventing foreign ships from bringing much-needed aid to the storm-struck island of Puerto Rico.
"We're thinking about [lifting the Jones Act]," Trump said. "But we have a lot of shipments and a lot of people that work in the industry that don't want the Jones Act lifted, and we have a loft of ships out now."
Under the Jones Act, which is formally known as the Merchant Maritime Act of 1920, federal restrictions prevent non-American ships from carrying cargo from one United States port to another — including those in commonwealths such as Puerto Rico.
The law, passed by Republican Sen. Wesley Jones of Washington, is aimed at protecting and promoting American shipping interests. But today, critics of the law say it prevents crucial supplies carried by foreign vessels from reaching the island of Puerto Rico, whose people are suffering in the aftermath of Hurricane Maria.
Republican Sen. John McCain of Arizona, one of the law's most forceful and tenacious critics, rebuked the law's "unacceptable" impact on the people of Puerto Rico in a letter Tuesday to the Department of Homeland Security.
"It is unacceptable to force the people of Puerto Rico to pay at least twice as much for food, clean drinking water, supplies and infrastructure due to Jones Act requirements as they work to recover from this disaster," McCain said. "Now, more than ever, it is time to realize the devastating effect of this policy and implement a full repeal of this archaic and burdensome act."
Another letter, this one from House Democrats, also urged DHS to exempt Puerto Rico from the Jones Act.
"In their hour of need, Washington can help by suspending the Jones Act and suspending cost-sharing obligations," the House Democrats, led by Rep. Nydia M. Velázquez of New York, wrote. "Puerto Rico was closing schools and hospitals and laying off cops before the two hurricanes hit this month, so Washington should go these extra steps."
But by his own admission, Trump's reluctance to lift the waiver may stem from pressure from the American shipping industry, whose interests the Jones Act protects.
A Jones Act waiver "would take American first responders out of the loop and replace them with Filipino or Russian or Chinese crews," Michael Roberts, senior vice president and general counsel for Crowley Maritime Inc., a ship operator that benefits from the 1920 law, told the Wall Street Journal. "Doing that at a time when many U.S. mariners in this region have had their homes damaged, their lives uprooted and now they need to work, to take that away is not something you want to do."
In arguing against waiving the law, Roberts said the maritime relief effort was basically good enough as is.
"[There is] a very steady pipeline of relief goods that is in process now and adding foreign-flag capacity and taking out U.S. mariners who are doing this work would not help at all," he said.
It's an assessment shared by the DHS, which told the Journal in an email statement that "there is sufficient numbers of U.S.-flagged vessels to move commodities to Puerto Rico."
But whether the argument against lifting the maritime law actually holds water, the peril faced by the people of Puerto Rico is undeniable. Seven days after the storm made landfall on the island, at least ten people are dead and many are without cell phone service or power.
Trump is expected to visit Puerto Rico on Tuesday.