No one quite knows what 'The Scaramucci Post' is, but Anthony Scaramucci wants to tell you about it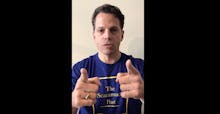 Anthony Scaramucci, President Donald Trump's former communications director who lasted a grand total of 10 days in the White House, has a new media venture, which he claims will be a moderate, centrist platform for ... something.
In a video posted to Twitter Wednesday, Scaramucci, who left the Trump administration at the end of July, said that his new outlet, the Scaramucci Post, would aim to "be the center lane in a two-lane highway."
Other details about the venture, including, most importantly, what it will actually do — or how there can be a center lane at all on a two-lane highway — remain unclear.
"The Scaramucci Post is going to be about moderation, but our tagline is going to be: Everything in moderation, including moderation," Scaramucci said. "The Scaramucci Post is going to be about what is right and wrong in the society right now, as opposed to what is left and right."
Scaramucci has been teasing the media venture since Sept. 13. It's unclear whether the site will employ journalists or on what platforms it will exist; the venture's Twitter account has predominately engaged in conducting Twitter polls to ask which Twitter accounts it should follow.
But, according to Scaramucci, the site's ambition is to be a place "in the center lane" where people will talk about "how we can make society better" and "making the world better for our children and our grandchildren."
Or, ultimately, "a world-class experience," he said in Wednesday's video.
Scaramucci will hold a launch party for the platform on Oct. 2 at his restaurant, Hunt & Fish Club, in New York, and more details about the venture will be provided during live-streams on Facebook and Periscope that day.
Despite having served in a media role in the White House, the site will represent a departure for Scaramucci, who made his money as an investor. Trump marked his first real foray into politics and media, culminating in his 10-day run in the president's administration.
His arrival at the White House prompted the abrupt resignation of then-White House press secretary Sean Spicer, but his tenure ended after he was quoted extensively in an expletive-laced interview with the New Yorker during which he made numerous crude and insulting remarks about other members of the administration.