White House admits Trump blocked Twitter users because they criticized him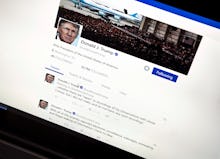 The White House won't argue against claims that President Donald Trump blocked Twitter users because they were critical of him or his policies, according to a legal stipulation filed this week.
The legal document is related to a lawsuit the Knight First Amendment Institute at Columbia University brought against Trump and his communications team in July on behalf of several Twitter users, alleging that blocking those users from seeing Trump's statements as president violates the First Amendment.
"Defendants have agreed that they will not contest plaintiffs' allegation that the individual plaintiffs were blocked from the president's Twitter account because the individual plaintiffs posted tweets that criticized the president or his policies," the document read.
The lawsuit, in which each of the plaintiffs claim they were blocked after responding directly to a tweet from Trump with a critical comment, came a month after the Institute sent a letter to the White House demanding that Trump unblock his critics on Twitter.
The Knight Institute argues Twitter is a public forum and that blocking users prevents them from being able to participate in public discussion or view official statements made by the president.
The Knight Institute is taking the stipulation as a victory.
"The White House's concessions here amount to an acknowledgment that the president and his aides have engaged in viewpoint discrimination in violation of the First Amendment," Jameel Jaffer, executive director of the Knight Institute, said in a statement. "We look forward to making this case to the court."
The Justice Department is scheduled to file its opening brief in the case Oct. 13. Read the entire stipulation here.