Career advice 2017: How to maximize your chance of getting a job before you even interview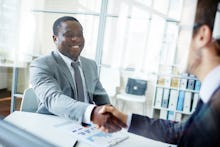 A great interview is essential to landing a job. But is it really the most important factor? Perhaps not, because by the time you get to the interview, the likelihood of getting hired may already be predetermined based on how you came across in the days and weeks leading up to it.
"Likability is very important because we spend so much time at work that we want to work with people we like," Caroline Ceniza-Levine, a career expert at SixFigureStart, said in an email interview.
That doesn't mean you must have a close personal connection to the interviewer to get a job offer. You just want a good vibe leading up to interview day, since that positive rapport can predispose the interviewer to like you and may even lead them to ask easier questions that you'll ace.
Here's how to make a good impression from the get-go.
Laser focus your job search
Applying for too many jobs makes it hard to devote the time you need to make a strong connection with the hiring manager before the interview. So instead of sending your resume to any company that's hiring, focus on finding a job that excites you. This helps your passion show through, which is exactly what hiring managers like to see.
Use the time you save by not spamming HR people to customize your resume and cover letter so your application feels thoughtful, enthusiastic and unique. "Preparation is impressive to a hiring manager," Ceniza-Levine said.
"Know the company overview (such as lines of business, size and recent projects or changes). Know your interviewer — look up their background and see what you have in common. Know the job — review the job description and be prepared to give examples of how you match the qualifications," she added.
You'll also have more time to follow up regularly and will be quicker to return calls from potential employers — both of which are vital to making a good impression.
Lastly, think twice before simultaneously applying for more than one job at a single company, as this may create the impression that you'll take anything. (However, if a recruiter sees your application for one position and suggests you might be a better fit for another, by all means, go in for the interview.)
Write the perfect cover letter
Your cover letter is your first chance to connect with a company, so you want to make it great.
The perfect cover letter has four essential components: an explanation of why you want the job, why you're qualified for it, why you're the right cultural fit and how you'd add value to the company.
The idea is to make it as easy as possible for the hiring manager to connect the dots between your cover letter and the open position. That means showing, not telling, how your past experiences directly prepared you for the job.
If you're applying for a marketing job, for example, don't just say you worked on a big marketing campaign — describe how you took the lead in preparing the presentation for the client, the steps you took to perfect the language and graphics and the successful results you achieved.
It's also important to do your research. "If you don't know the job, it looks like you don't take your work seriously," according to Ceniza-Levine. "If you don't prepare to make a good impression when you're trying to convince someone to hire you, how much lazier will you be if you're on the job!"
This means visiting the company's website, but also going beyond the basics. Check out the Twitter feeds of company execs, the profiles of employees on LinkedIn and other social media resources that give you more insight into the company culture. Then do an online search to read up about the company and what others are saying about it. The knowledge you glean will make you come across as smart, thorough and well-informed in the interview and may even give you ideas for smart questions to ask once you get it.
Tailor your resume to the job
You have just a few minutes to connect with the hiring manager reading your resume and you don't want to miss this chance to make a powerful connection.
One way to get the hiring manager on your side: Make her job easy. This means including the most relevant work experience near the top so she doesn't have to hunt for it.
You also want to "mirror" the hiring manager, which means including exact language from the job ad in your resume. If the ad calls for someone creative, redraft your job descriptions to incorporate this key word. Instead of just saying you were a team-leader on a key marketing project, specify that you lead the team in a "creative marketing project" designed to enhance awareness of the brand.
Also consider using bullet points to make your resume faster to read and adding a skills section to quickly showcase all you can do.
Treat every communication with the importance it deserves
Every interaction with a potential employer is your chance to make an impression. From a thank you note after an initial interview to a quick phone call when a recruiter calls to tell you what the next steps are in the process, remember your behavior is always shaping their perception of you.
How can you make that impression a good one? Avoid picking up the phone at a time when you cannot be professional — like if you're at a loud outdoor activity and won't be able to hear. Follow directions at every phase of the interview process, make sure all of your communications are free of typos or errors and remember your interview starts the moment you walk in the door.
If you visualize success during the entire pre-interview process and take the time to make all of your communications positive, hopefully the hiring manager will be primed to hire you before you set foot in the interview — and you'll be well on your way to an awesome new job.
Sign up for the Payoff — your weekly crash course on how to live your best financial life.