Equifax credit freeze checked off your list yet? How many Americans protected themselves post-breach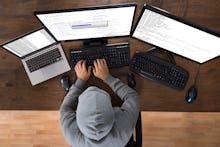 It's true: Identity theft can ruin a person's financial life. A victim can find themselves cut off loans, and hounded by creditors and law enforcement for years over debts they didn't take out — or crimes they didn't commit. Even if you are able to successfully discharge the debts taken out in your name, you may still have to count the discharged money as income on your tax forms, as happened in one particularly harrowing Bloomberg account.
There is little disagreement that an identity thief's job might be a lot easier if they can get their hands on the personal information of the 143 million consumers leaked by the credit bureau Equifax in a hack announced on Sept. 7. That's why it's arguably surprising that so few people seem to be taking steps to safeguard their identity from thieves.
One of the most widely recommended actions on the part of consumer advocates is to freeze your credit reports with each of the three bureaus —Equifax, Experian and TransUnion. This makes it far more difficult for crooks to open up new lines of credit in your name, thus placing a roadblock against many of identity theft's most catastrophic consequences.
The problem? Only 10% of credit card holders have placed a credit freeze in the wake of the data breach, at least according to data from LendingTree subsidiary CompareCards, which surveyed 1,000 American adults with credit or debit cards from Sept. 22 to Sept. 25. Another 14% say they plan to place a credit freeze, but haven't yet.
Still, 84% of consumers in another LendEdu survey said they are familiar with the Equifax hack, making it even harder to blame the low numbers on ignorance.
To be fair, freezing your credit isn't without a few downsides. If you want to apply for a legitimate line of credit of your own, you'll have to leap through the extra hoop — un-freezing it to apply for a new credit card or mortgage. Credit freezes are required to be free in only seven states, so you'll also likely need to have pay at least some money out of pocket to the bureaus besides Equifax.
For its part, the recently installed interim Equifax CEO Paulino do Rego Barros Jr. wrote in a Wall Street Journal op-ed that the company would be extending its offer to provide free credit freezes through the end of January.
More tools you can use to safe-guard your identity
What else can you do beyond freezing your credit? You've got options.
A new tool to lock and unlock your credit
Equifax is developing a new product to help consumers safeguard their identities further by allowing them to "easily lock and unlock access to their credit files," Barros added in his op-ed for the Journal. That product, which will launch on Jan. 31, 2018, will be free indefinitely. The specifics on exactly how it will work have not yet been disclosed.
Get this free credit monitoring product from Equifax
One tool that is currently available is Equifax's Trusted ID product, which will monitor your credit reports for signs of potential fraud. Unfortunately, some consumers, including a Mic editor, have had trouble activating the product, and have received error messages like this:
An Equifax spokesperson did not immediately respond to questions about when Trusted ID usability issues with would be resolved, but told Mic in an email that the company's new locking tool would be a "mobile-enabled" app and "use modern authentication techniques" — like usernames, passwords and one time passcodes — to allow consumers to lock and unlock their credit files and prevent thieves from opening new accounts in their name. The spokesperson said this type of lock is similar but not identical to a freeze, which uses a PIN system for identification.
Get smart about setting up alerts
Since 86% of identity theft victims report activity on existing accounts, according to the Bureau of Justice Statistics, you should set up alerts to make it easier to track the spending on any financial account, legitimate or otherwise. Just log into your account and set alerts for things like a charge over a certain dollar amount or other unusual activity.
Only 25% of consumers have alerts set up on all of their accounts, according to the CompareCards data. The more quickly you can alert your issuer to fraudulent activity on your account, the faster you can get your money back.
Keep tabs on your charges and credit reports
Regularly monitoring your spending with an app, and regularly checking your three free credit reports each year can also help you stop a thief before they are able to do too much damage.
Certified financial planners have also recommended filing your income taxes early this year, as soon as you receive all the necessary forms, to prevent someone from trying to claim your tax refund.
A final idea to consider? There's power in numbers, which is why about 25% of the consumers polled by LendEdu planned on joining class action lawsuits. The payouts in these lawsuits aren't always substantial, but they do serve as a strong incentive for companies to pursue more consumer-friendly behavior. ClassAction.org can help you find lawsuits to join, or you can read our guide about setting up a class action lawsuit of your own here.
September 29th, 2017, 10:00 a.m.: This story has been updated.
Sign up for the Payoff — your weekly crash course on how to live your best financial life.