Tom Price resigns as HHS secretary after private jet scandal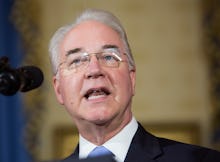 Health and Human Services Secretary Tom Price resigned Friday after being plagued by reports that he spent hundreds of thousands of taxpayer dollars to travel on private jets, despite the availability of cheaper commercial travel options.
President Donald Trump accepted the resignation and will designate Don J. Wright, deputy assistant secretary for health, to serve as acting secretary, the White House said in a statement announcing the resignation Friday afternoon.
In addition to taking trips abroad using military aircraft, Price had traveled on at least 26 charter jets during his time as HHS secretary, according to Politico, which broke the story. The total cost to taxpayers exceeded $1 million.
Price agreed to pay back close to $52,000 for the flights, reportedly to cover the cost of his own seat on charter jets for his domestic travel, Politico reported.
However, that wasn't enough to save his job.
The revelations led to multiple investigations into both Price's private jet travel and that of other senior Trump administration officials who have been accused of questionable private jet travel and requests. Price's resignation raises further questions about the fate of those officials.
Aside from the sheer cost of the jets, Price is also under fire for mixing official business with family business after using the jets to travel around the country — taking time to have lunch with his son in Nashville, Tennessee, during one leg of a private jet trip, Politico reported.
Price also took at least two private jet trips to areas where he owns property, according to Politico, including a Georgia resort. Price flew to St. Simons Island a day and a half before he was set to speak at a medical conference he has attended for year.
Trump was reportedly furious with Price for his private jet travel, telling reporters Wednesday he was "looking into" the matter.
"I'm not happy about it," Trump told reporters before leaving for Indiana, where he was delivering a speech on tax reform. "I am not happy about it. I'm going to look at it. I am not happy about it, and I let him know it."
Price, for his part, painted himself as a crusader against government waste during his tenure in the House.
Ironically, Price criticized Congress back in 2009 for spending money on private jets.
"I think we've made it halfway where we ought to, which is cut it from eight to four jets, now we need to cut it from four to zero jets," Price said of Congress' funding of private jets. "This is just another example of fiscal irresponsibility run amok in Congress right now."
In his resignation letter, Price said it had been an "honor" to serve in the Trump administration, but that his "distraction" had gotten in the way of the president's agenda.
"I have spent 40 years both as a doctor and public servant putting people first," Price wrote to Trump. "I regret that the recent events have created a distraction from these important objectives."
"You may rest assured that I will continue to support your critical priorities going ahead because failure is not an option for the American people," Price added.
Wright, who has also been serving as director of the Office of Disease Prevention and Health Promotion, will be responsible for overseeing the implementation of the Affordable Care Act as well as helping Trump design legislation to repeal the law. So far, Republicans have failed to repeal the ACA, known colloquially as Obamacare.
September 29, 2017, 5:38 p.m. Eastern: This story has been updated.